eMailTrackerPro

Trace and report spammers, trace email message to the sender's location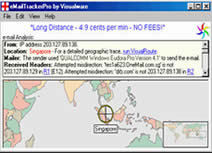 eMailTrackerPro can be used to trace any email you have recieved. Whether you want to track the origin of Spam or Phishing email so you can report it, verify the location of a buyer/seller on an Internet auction site or just verify the location of a customer. For all these uses and more eMailTrackerPro is the perfect tool.

Spam emails frequently contain malicious viruses, threats, and scams that can result in the loss of your data and confidential information, and even identity theft. With eMailTrackerPro you can easily verify of the sender of an email and their geographical location, including messages sent through 'anonymous' email services like Yahoo and Hotmail.




Software Information
System Requirements
Version:
6.1h

Windows 98/ME/NT/2000/XP/Vista
Pentium II CPU
64 MB RAM

File Size:
4.36 MB
License:
Free to try, $29.95 to buy
Screenshot:
View Screenshot
Rating:
Main Features of eMailTrackerPro:
Integration for Outlook Express Users!
Simply drag and drop an email from your Outlook Express inbox onto the interactive Visualware desktop icon to start a trace!
Brand new GUI when tracing!
eMailTrackerPro now provides a fully interactive globe that allows you to zoom in and out and rotate your traceroute. Easier to understand information as your trace is progressing.
Analyzes a spam email message you have received to identify the sender's IP address
eMailTrackerPro automates the process of identifying where emails originate, and with fast results – see analysis results within seconds!
Shows the geographical location of the sender on a world map
The geographical location of an IP address is key information for determining the threat level or validity of an email message. If the message originated from a high-risk or unexpected region, it is likely to be a bogus or fraudulent message.
Provides automated reporting of spammers and email abusers
Easily report a spammer, email viruses, scammers or other mis-use of email to the company providing Internet access for the sender.
Identifies the network provider of the sender
The sender's network provider (or ISP) is identified, providing contact information for further investigation.
Trace an email address directly from the Windows task bar
The VisualTrace tool bar enables instant tracing of an email address right from your task bar, without having to wait for a program to launch or keeping an application open.
Uncovers common tactics used by spammers
eMailTrackerPro indicates if the sender has used 'misdirection' and other tactics in an attempt to disguise their tracks.
One-click tracing from Microsoft Outlook 2002+
If you are using the full version of Outlook, trace an email with a simple click on the Outlook toolbar, easily validate emails before opening or responding. For other email programs simply copy/paste the email headers into eMailTrackerPro.
Works with any received Internet email message
Most any email message can be traced with eMailTrackerPro, even messages sent through 'anonymous' email services like Yahoo and Hotmail.
Shows the routing path to the sender
The actual path to the sender's IP address is reported in a routing table, providing additional location information to help determine the sender's true location.
Identifies the email program used to send the message
For most messages, eMailTrackerPro indicates what program the sender used to send an email.
Provides an analysis of applications running on the destination system
Get a report of the Internet applications on a destination site, including HTTP/HTTPS, the type of web server, FTP and SMTP.