eMailTrackerPro Advanced Edition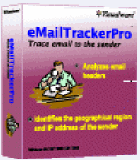 eMailTrackerPro Advanced Edition has all the features of the Standard Edition plus many useful new features to remove high risk emails before they can reach your computer!
eMailTrackerPro Advanced Edition includes an online mail checker which allows you to view all your emails on the server before delivery to your computer.This is an excellent safety feature as it stops high risk and suspicious emails from reaching and infecting your computer.
Using this feature scans every email waiting for delivery and quickly identifies where they originated from and if they are misdirected (a common tactic used by abusers to make you email is from somewhere else). This saves you time and effort as it allows you to quickly identify and remove SPAM and infected emails safely before they can do any harm.




Software Information
System Requirements
Version:
3.0

Windows NT/2000/2003/XP/Vista
256 MB RAM
For the advanced version a pop email account is needed
Sun's 5.0 Java Runtime Environment or higher

License:
Free to try, $49.95 to buy
Download Size:
4.57 MB
Rating :
eMailTrackerPro Benefits:
Check and remove abusive or infected emails before they reach your computer
POP account users can now get eMailTrackerPro to check the emails directly on the server before you allow them to be delivered to your computer. This allows you to quickly and easily read, sort and delete any unwanted or suspicious email safely before it reaches your computer.
Check the content of emails before they reach your computer
When your mail is being retrieved eMailTrackerPro pre scans every email to identify high risk emails, such as emails that originate in high risk countries like Russia or China or emails with misdirection indicating hackers trying to fool you. By flagging high risk emails eMailTrackerPro allows you to quickly review and delete emails that are not wanted.
Trace many emails at once
A much requested feature of the latest eMailTrackerPro is the ability to trace multiple emails at any one time. When all your emails have been listed from the server you can select any number of emails for tracing. This saves lots of time and allows you to quickly produce abuse reports to send to ISP's without ever loading the bad emails on your computer.
Automatically filter bad emails
Another feature of the advanced edition provides the ability to place any email on a ?white' or ?black' list. This saves you lots of time by automatically filtering ?wanted' from ?unwanted' emails. eMailTrackerPro color codes filtered emails for quick reviewing and deleting where required.
eMail rules
Similar to ?black' and ?white' lists the rules option allows more specific criteria to be set for filtering emails. This helps you to save even more time by reducing the time needed to sift through your emails to block SPAM and other abusive or infected mail.
eMail preview
The content of the email can be reviewed directly on the server so abusive and infected mails can be quickly and accurately identified without out the risk of infecting your computer. Many spammers now manage to send emails and make them look as if they come from ? known' addresses! By review 30-40 lines of the email body you can quickly validate authenticity of the author and delete immediately. This way you are not tricked into downloading emails that put your computer at risk.
Auto Check
eMailTrackerPro has the ability to 'auto-check' your mail server at regular intervals. This allows eMailTrackerPro to run minimized in the Windows systray, freeing valuable desktop window space, alerting you immediately when new emails are received.
RELATED SOFTWARE DOWNLOADS FOR EMAILTRACKERPRO ADVANCED EDITION