Drop Secure Professional™ for Mac OS X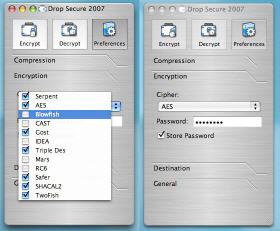 Drop Secure Pro™ is an easy-to-use personal encryption utility that uses multiple encryption ciphers to secure a file in a way that is a little different. You can quickly and simply encrypt and compress files by just dragging and dropping the files on the drop secure window.
Drop Secure Pro™ starts by dividing up the file into small chunks. By default, those chunks are 256 bytes long. Each chunk is encrypted with a separate cipher, using a separate password that is derived from a hash of information provided by the user, from the archive, and from the data being encrypted. This password is used only once for that one chunk of data, and then discarded.
The chunks of data are placed in an archive file, with pertinent information encrypted again as a group.
This increases security over most other encryption utilities. For example - a 1 megabyte file will encrypt four thousand 256 byte chunks of data. Each chunk is encrypted with a different password and one of a range of ciphers. To compromise a single chunk of data, a hacker would have to guess the encryption algorithm employed, and then break the encryption by a brute force attack. If he succeeds, the hacker would only have 1/4000th of the data, and would have no advantage when it comes to attempting to break the other 3999 chunks.
When you compare this to encrypting a file with other encryption utilities, you would see it takes the same amount of effort to crack their entire file as it does to crack a single chunk of 256 bytes of data -Drop Secure Pro™ uses.
AES, 3DES, Blowfish, and many other encryption algorithms are supported.
Software Information
System Requirements
Version:
3.01
License:
Free to try, $57.00 to buy
File Size:
14.7 MB
Screenshot :
View Screenshot
Rating :
Key Features of Drop Secure Professional for Mac OS X:
The new standard in Mac Security Encryption Software
Easy to use. Drop Secure supports a drag and drop model to encrypting files and directories.
Strong, unique handling of encryption. Each file is divided into tiny peices, and can be encrypted with a separate cipher and password (Passwords are created computational using a single password provided by the user).
Compresses for smaller file sizes.
Cross Platform – runs on Linux, Mac OS X, Windows
Free decryptor
The archive manager allows files to be added to or removed from already created archives.
The archive manager supports "Refreshing" an archive – if a newer version of a file within the archive exists on the file system, Drop Secure will add it to the archive, and remove the old one.
1 month free trial.
Choose whichever encryption ciphers you want to use.
1 year free upgrades.
Competitive Advantage:
Fast
Easy to use – perfect for the novice
Files do NOT self decrypt – making it that much harder to crack. I mean, why include the algorithm necessary to crack the security in the file itself?
Cross platform – run on Linux, Mac OS X and Windows 98/ME/NT/2000/XP/Vista.
RELATED SOFTWARE DOWNLOADS FOR DROP SECURE PROFESSIONAL FOR MAC OS X