DreamCalc Scientific Calculator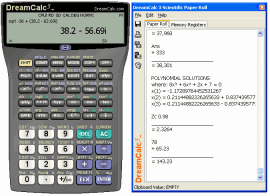 DreamCalc is the smarter alternative to a hand-held Scientific Calculator for your PC or laptop! You'll get the intuitive feel and productivity of using a professional hand-held, but one which adapts to your way of working.
Select from Reverse Polish Notation or two styles of algebraic input, and with the optional ability to run in your Windows system tray--DreamCalc will always be there whenever you need to reach for a calculator. DreamCalc also offers you a full range of scientific functions, statistics, complex numbers, base-n logic, unit conversions, built-in constants and a powerful polynomial solver. Because it is software, it allows you to exchange your results and lists with your other applications. It is a "must" for business, science, engineering and education.
Software Information
System Requirements
Version:
4.2.0

Windows 8/7/XP/Vista
512 MB RAM
20 MB Free Space

File Size:
2.71 MB
License:
Free to try, $15.99 to buy
Screenshot:
View Screenshot
Rating :
DreamCalc Scientific Editions General Features:
Algebraic & RPN Inputs
Realistic User Interface & Skins
Polynomial Solver
Keyboard Input
Complex Numbers
Paper Roll Window
Run from System Tray (optional)
Engineering Modes
Date Input & Calendar Functions
International Number Formats
Fixed Digit & Scientific Notation
Natural Fraction Key (also converts any decimal to fraction)
Multiple Memory Registers
Degrees, Minutes & Seconds (DMS)
On-Screen Display of Input Expression
Help & Keyboard Hints
Main Window Roll-Up
Windows Clipboard Support
Full Backspace & undo Capability
Comprehensive User Guide
Hundreds of Supported Functions.
Conversions & Constants Features:
Over 630 Physical Constants
Approx 80 Conversions (angles, area, energy, force, length, mass, speed, temperature etc)
Commonly Used Constants Available on Keypad
Intelligent PI Constant.
Financial Calculations Features:
Simple Profit Functions (COST, SELL, MAR)
Percentage % Key.
Statistical Calculations Features:
Spreadsheet Style Data Input
X-Y Data: Linear, Logarithmic, Power, Inverse, Exponential & Quadratic Regression
On-Screen Regression Formula
Weigthed (SD) Data: Averages, means, Standard Deviations, Modes, Medians & Standard Error
Confidence Intervals (CI) & Normalized Variant (t)
Sums and Range Calculations
Probability Distributions & Critical Z Values
Easily Export Data to other Applications.
Base-N & Logic Functions Features:
2s Complement Arithmetic for 32 & 64 bit Integers
Floating Point Base-N Arithmetic
Any Radix from 2 to 16
Logic Functions: OR, XOR, AND, MOD etc
Big Endian to Little Endian Conversions
Conversions to KB (kilobytes), MB, GB values etc
Byte Grouping & Lead Zero Padding Options
RELATED SOFTWARE DOWNLOADS FOR DREAMCALC SCIENTIFIC CALCULATOR