Digital Cookbook Plus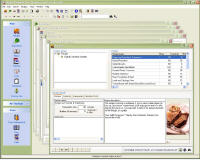 Digital Cookbook Plus is a great recipe management software. With it you can easily store, browse and search you recipes. Also, you can import recipes from popular formats sush as MasterCook and Meal Master. Digital Cookbook recipes can hold pictures too and all interesting nutrition facts.
With Digital Cookbook you get a database of ingredients with all nutrition facts and based on it you can make nutrition analysis of your recipes. Also, you can export recipes to mentioned formats and also to HTML for publishing on Internet, send recipes to your friend by e-mail, make daily weekly or any other menus, create a list of needed groceries and much more ... Fully configurable and flexible, Digital Cookbook is the right choice for you.
Digital Cookbook Plus version has ability to track user's diet progress, storing information about his/her measures and calculating various factors such as body mass index, body fat percentage, waist to hip ratio, basal metabolic rate etc. Progress can also be graphically presented.




Software Information
System Requirements
Version:
4.01

Windows NT, 2000, XP, 98, ME, Vista
Microsoft Word 2000 or later
Pentium IV 1000+ MHz processor.
256+ MB of RAM
At least 50 MB free space on hard disk.

License:
Free to try, $29.90 to buy
File Size:
6.94 MB
Screenshot:
View Screenshot
Rating :
Key Features of Digital Cookbook Plus:
Organizing recipes into recipe groups, adding, editing and deleting recipes, moving recipes and groups from one group to another using drag & drop.
Organizing ingredients into ingredient types, adding, editing and deleting ingredients, moving ingredients from one type to another by using drag & drop.
Organizing recipe menus in menu groups, adding, editing and deleting menus, moving menus and groups from one group to another using drag & drop.
Adding, editing and deleting measurement units in which you want to express ingredients in your recipes.
Calculating nutrition facts per one serving of selected recipe, based on nutrition facts for 100g of contained ingredients.
Calculating menu costs, based on entered ingredient costs. Very useful for creating shopping list and costs planning.
Powerful search engine for searching recipes and ingredients, by entering various search criteria (string pattern search, search by nutrition facts, search by ingredients contained).
Printing with print preview of recipes, ingredient and menus. You can print single or multiple recipes and ingredients in reports, choosing whether you want to show pictures and nutrition facts or not. Also, you can print menus with all ingredients needed for recipes contained in selected menu and thus to create grocery shopping list. All printing reports can be customized!
A lot of customizable options: main window position and background color, toolbars, reports, and even a policy for keeping database integrity, and all of that in very simple, understandable and user friendly interface.
Importing recipes from three most popular recipe formats: MasterCook, Meal Master and Computer Chef.
Exporting recipes to above mentioned format and also into HTML, for publishing on Internet and into Microsoft Word format.
Sending recipe to mail, using your default mail client.
Good, detailed help for every form, menu and toolbar item and also for standard procedures in working with application.
Organizing cooking tips groups, adding, editing and deleting cooking tips, moving cooking tips and groups from one group to another using drag & drop.
User management and diet progress tracking taking note of all relevant user's measures, calculating body mass index, fat percentage and other factors (NOTE: only in Plus version).
Kitchen assistant, an office-like assistant who helps users get information about application (NOTE: only in Plus version).
Viewing user's diet progress in calendar and in chart (NOTE: only in Plus version).
RELATED SOFTWARE DOWNLOADS FOR DIGITAL COOKBOOK PLUS