Diet Wizard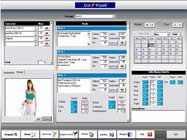 The Diet Wizard is an powerful new product that allows you to easily track your daily intake of food and/or create a pre-defined diet for you to follow and augment as you follow your plan. And though there are other diet tracking software on the market, none are as easy to use, affordable, powerful or flexible as the Diet Wizard.



Order Now $19.99 USD
Software Information
System Requirements
Version:
New Version

Windows 98/ME/NT/2000/XP
Pentium II CPU
64 MB RAM

License:
Free to try, $19.99 to buy
Screenshot:
View Screenshot
Rating :
Here are some of the main features available:
Instant diet diary - You don't have to spend a lot of time setting up your meals and other information before you use this program. Just enter what you eat and drink every day. You can always go back and enter calorie and other nutritional information later.
Exercise tracker and planner. Chronicle your daily activities and then review the Results chart to see how it is helping you achieve your goals. Also, lay out an exercise program in advance, print it out and take it to the gym so the you can follow your plan exactly.
Supplementation tracking. We offer no opinion on taking supplements one way or another but realize that it is a diet supplements generate billions of dollars per year. The Diet Wizard provides a means to track your weight-loss in conjunction with supplements so that you can better judge whether you are wasting your money or not. For instance, if you follow the same regimen for a week or two without taking any supplements and then follow the same regimen for the same length of time while taking the supplements, you will see immediately when reviewing the Results Charts if the supplements are making a difference or not.
Photo Tracker. What better motivation can you have than taking before, during and after pictures while you are using the Diet Wizard. This is also a powerful tool if you are a professional and want to better motivate you clients by letting them see the results of their hard work!
Multiple Programs - You can set up multiple programs for yourself to see which one works better than others and/or do the same for your family members or clients.





Meal Builder and Plann is er - If you want to realize the real power of the Diet Wizard then you enter in all of the foods you want to consume on your diet then create meals from those. By entering in all of the calories, carbohydrate fat and other food content then you will be better able to plan your meals based on what allowances you want for your daily maximum intake.
Recipe Builder - Create, store and print out your favorite recipes to share with others with our simple Recipe Builder. All entries are automatically added to the food groups so that your recipe will be available when you build a meal.
Web Library - There an overwhelming availability of information available on the web that pertains to diet, exercise, supplementation and other topics that are invaluable to you and your weight-loss or lifestyle changing goals. The Diet Wizard provides a built-in browser that helps you search and save these valuable pages so that they are easily available to you when you need them.
Charts and Reports - Nothing is more powerful that being able to see the results of your hard work. By reviewing your charts on a Daily, Weekly or Monthly basis, you can better adjust your diet, exercise or supplementation regimens so that you can more quickly and precisely achieve your goals.


Free Upgrades - You are entitled to any and all upgrades to the program during the calendar year that you first purchased the Diet Wizard.
Tech Support - You can always get tech support by email seven days a week.