Deskzilla - Bring Bugzilla To Your Desktop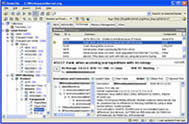 Using Bugzilla bug tracker? Deskzilla helps!

Deskzilla is a desktop client for Mozilla's Bugzilla bug tracking system. Providing Bugzilla users with an interactive working environment and extra features, Deskzilla is a valuable tool for every project participant.

Deskzilla's extra features such as ability to work offline or nested queries are real time-savers for people who use Bugzilla routinely.




Software Information
System Requirements
Version:
1.2.1

Windows 98/ME/NT/2000/XP
Pentium II CPU
64 MB RAM

File Size:
16.9 MB
License:
Free to try, $99.00 to buy
Screenshot:
View Screenshot
Rating :
Main Features of Deskzilla :
Deskzilla Features - Searching



Searching Without Access to Server
When you run a query for the first time, Deskzilla sends a request to Bugzilla to download initial search result. Downloaded bugs will be stored in the local database and will be available for viewing and modification anytime regardless of server availability.

Deskzilla periodically polls Bugzilla server to download all bugs that have changed since last synchronization. This way Deskzilla makes sure that local search results are accurate.
Nested Queries
When a query is placed under another query in the Navigation Tree, its filter is applied to the results of the "parent" query. This allows you to further filter the results of a query.

This feature works best when combined with another features. For example, you have hundreds of open bugs. You take Open Bugs query and create a distribution under it over, say, Components, and immediately see how many open bugs are there for each component.

Each distribution sub-query could be run and you also may create another distribution inside every sub-query, or drag-and-drop a bunch of sub-queries from somewhere else in the Navigation Tree.
Tabbed Search Results
Tabbed search results allow to execute several queries and work with a number of bug sets at the same time.

Each tab maintains its own state - selection in the bug table and table update mode. This allows the user to iterate through a collection of bugs while diverting to investigate other queries or to follow a link.
Quick Search
Quick Search is a way to find specific bugs. Just enter what you look for in a single field and let Deskzilla work for you.

Depending on entered text, the search will be done for certain bug IDs or for given words.
Distribution
Distribution feature provides an easy way to create a number of similar queries that select bugs with distinct values in a given field. For example, on a default Bugzilla installation a distribution over Priority field will have five sub-queries - P1, P2, P3, P4, P5.
This is done with a few clicks, and immediately you can see how many bugs are there for each value and descend further down the Navigation Tree.

Distribution will keep its sub-queries up-to-date, so when a new Milestone or Component is added to a project, the corresponding sub-query will automatically appear.

Deskzilla Features - Examining Bugs


Bug Counters
When a query is in synchronized state, Deskzilla displays the number of bugs that pass the query's filter right beside the query name in the Navigation Tree.

A query becomes synchronized when it has been successfully run on remote Bugzilla server. A sub-query of a synchronized query is also synchronized.

Another way of thinking about synchronized queries is this: when Deskzilla "knows" that it has all the bugs for this query that are present on the Bugzilla server, the query is considered synchronized and the number of bugs is shown for it and all of its sub-queries.
Live Bug Table and Frozen Bug Table
Query result is displayed in the bug table. This table may work in one of the two modes.

In Live Results mode, the bug table displays the most current information about bugs that pass the query's filter. For example, if you modify a bug so that it satisfies the query no more, it disappears from the table automatically.

In Frozen Results mode, the bug table content is fixed after the query finishes. Any changes to the database will not be reflected. A special sign will mark changed bugs.

Live results mode is best suitable for "monitoring" kind of work. You just execute the query that shows you important things and leave Deskzilla running. Deskzilla periodically updates information from server and changes will be immediately reflected in the table.

Frozen results mode is good for iterative handling of each bug. You just process bugs one by one, making modifications and being sure that nothing will happen to the bug's position in the table because of your modifications or automatic updates.
Threaded Comments
When viewing comments in Guided Table mode, you can see additional "tree" component that provides threaded view of the discussion.

You can quickly look for comments written by a certain author, or see who answers or quotes your comment.

Deskzilla Features - Making Modifications



Merging Conflicting Changes
When Deskzilla detects bug update collision - which means that you and somebody else have changed the same bug simultaneously - it allows you to carefully review both change sets and resolve a conflict.

You can see conflicting fields and for each field select which value is to be used finally. You can also postpone conflict resolution - your changes won't be lost and will remain in the local database until you decide.
Configurable Workflow Actions
To quickly change bug status and relevant attributes, it's possible to apply a workflow action to a bug. A list of applicable workflow actions is available from the pop-up menu in the bug table, or in the special toolbar button.

Workflow actions may be customized by editing file etc/workflow.xml.
Bugzilla Workflow Engine
Bugzilla implies certain restrictions upon possible bug updates to facilitate predefined workflow. Sometimes this is not what you need.

Deskzilla contains update engine that will make best effort to reflect all of your local changes on remote Bugzilla server using common actions. For changes in workflow fields, it will find an optimal path through workflow graph.

For example, suppose you have a NEW bug with complete nonsense inside. You can set the bug to be CLOSED/INVALID and Assigned To a special account for such bugs.

After you have edited the bug, Deskzilla will take care of submitting it to Bugzilla in the right way.
Draft Changes
When making changes to a bug, or when creating a new bug, it is possible to tell Deskzilla not to upload changes immediately and just save the changes in the local database.

You will be able to review and edit changes later and submit it to server, or discard them.

Deskzilla Features - Other



Offline Availability
Deskzilla maintains a local database, which contains replicas of all bugs that have been downloaded from Bugzilla. Whenever there is no access to Bugzilla server you will be able to work with local database.

Later, when connectivity is restored, all changes that you've made are uploaded to Bugzilla and changes that the others have made are downloaded.
Aggregating Access
You can configure Deskzilla to connect to as many Bugzilla databases as you like. For each connection, Deskzilla maintains a separate project hierarchy.
No Server Installation Is Required
Deskzilla does not require any installation on server side. All provided functionality is based on existing Bugzilla capabilities.
Fallback To Browser
You always can open a bug's page in browser with a single key and use Bugzilla.
Why bother with a desktop client for already functional bug-tracking system?
Deskzilla saves your time.
It could be hours if you count the time spent monthly on navigation in Bugzilla — clicking and waiting for server reply, going back and forth through browser history, remembering which bug in a list was reviewed last. This time is spent on meaningful work if you use Deskzilla's tabbed multi-mode bug tables and quick search.
Deskzilla is always available.
Everyone in your team depends on network and server availability when you use a web service such as Bugzilla. Deskzilla, installed on each computer, allows to work with bugs even when Bugzilla is not reachable. Whether you are on the road or the server has crashed, your work on the project will not stop.
Deskzilla facilitates issue tracking process.
Quite often a process fails because people are not happy with the required tools. Deskzilla's interactive interface and desktop-only features (like immediate reporting with nested queries) make Deskzilla attractive and easy to use for the developers, the QA, the management and the whole project team.