Delete FXP Files 2009 - Lite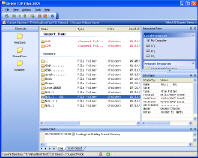 Delete FXP Files is an application designed to help you classify, examine and remove unwanted files on your system.
Got an undeletable file? A folder that Explorer® refuses to work with? Delete FXP Files 2009 is a powerful application that provides you with an easy way of manipulating directories and files that confuse Windows and cannot be managed by other applications.
Misbehaving applications, software bugs, and getting tagged (or T@gged) usually results in various folders and/or files being created that contain reserved identifiers or special characters that confuse Windows Explorer and the command prompt, making them difficult to delete.
Getting tagged is often the result of having a public FTP site available with anonymous upload access. Since getting tagged is often the first step before getting uploaded to, having your server tagged means that someone is likely using/abusing your storage space and bandwidth or is going to be doing so very soon. Delete FXP Files 2009 is a must have for sites that have been tagged, or are in constant danger of being tagged.
Delete FXP Files correctly handles tagged systems and provides other advanced functionality such as: The ability to runs scans looking for suspect itemsThe ability to rename suspect itemsSeeing if and what process is holding a file openThe ability to peek into these files to see what they containAnd much more!* Note that certain functionality is only available in advanced registration levels. You will need a working Internet connection in order for the license to install and validate correctly. Periodic online validation of the license may be required for some registration levels.




Software Information
System Requirements
Version:
2009

Windows NT4.0/2000/2003/ME/XP/Vista
IE 5.0 or greater

License:
Free to try, $14.99 to buy
File Size:
3.88 MB
Screenshot :
View Screenshot
Rating :
Delete FXP Files 2009 - Lite Features & Benefits:
Easily handles filenames that contain reserved identifiers and shell-confusing names like NUL, CON, CLOCK$, prn.hsp.laserjet, etc.
Easily handles nested directories
Uses the shell file operations, so you can specify if files are to be placed into the Recycle Bin or really deleted
Uses the shell file information routines, so you get the correct file icons and type information
Automatically highlights suspect files and directories (more than 1540 known FXP groups' names and commonly-used tools are also checked for!)
Easy navigation of the filesystem
Can cross network shares
Recursive Scan functionality
Recursive deletion
directory stack for quick navigation
Tooltips show information on files/directories and interface controls
User-specified blacklist of words that should be used to flag a file or folder as Suspect
User-specified whitelist of words that should be used to prevent a file or folder from being flagged as Suspect
Can flag a file for "delete on reboot", to handle deletion of files that are in use.
Process Finder feature that can tell you which processes are using a specified file or path and can then terminate those processes
Integrates into the Windows Shell (via a shell extension), allowing for right-click access to the deletion power of Delete FXP Files
RELATED SOFTWARE DOWNLOADS FOR Delete FXP Files Lite Edition