Dekart Private Disk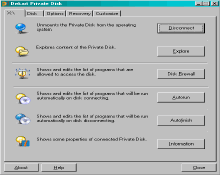 Strong encryption with Private Disk – security without trade-offs!
Dekart Private Disk is an easy-to-use, secure and reliable hard disk encryption software. Provides 100% protection of your private information, making your important files invisible and protected from unauthorised access.
Dekart Private Disk creates one or more virtual disks on your hard drive and/or other external storage devices. Once a user creates a virtual encrypted disk, that disk is assigned a new drive letter and appears to the user like any other system drive (like the A: or C: drive).
When the disk is mounted, the data is automatically encrypted and decrypted when the user writes or reads this data respectively. Dekart Private Disk encrypts and decrypts all data stored on the encrypted disk with virtually no performance penalty. When the disk is unmounted, either manually or by logging out of Windows, the secure data it contains becomes completely unreadable and undetectable by the operating system.
Dekart Private Disk allows you to store your information on a host of media such HDD, FDD, CD, CD/R, CD/RW, MO, MD, ZIP-disks, flash drives, all types of flash memory cards, PDAs, and even digital cameras. You have the flexibility to allow multiple users to share a single PC.




Software Information
System Requirements
Version:
2.10

Windows 8/7/XP/Vista
Pentium II CPU
512 MB RAM

License:
Free to try, $45.00 to buy
File Size:
2.5 MB
Screenshot :
View Screenshot
Rating :
Key Features of Dekart Private Disk:
Disk Firewall protects your data from illegal copying, viruses and spyware by maintaining a white-list of applications which are allowed to access the encrypted disk. The disk firewall has a self-learning mode feature that keeps track of the user actions and composes the white-list of applications automatically More details about Disk Firewall…
Authenticity verification for Windows applications. This feature verifies whether a trusted application is authentic, and it is indeed the program that was once added to the white list. This way, Private Disk protects the data from threats that come from compromised trusted applications (such as a program infected with a virus).
PD File Move: organize your documents, and securely migrate them to a protected environment. The utility automatically finds the files you need, encrypts them, and then wipes out the originals, leaving no trace of their presence. File Move makes data migration simple and effortless; no file is left behind by accident, your privacy is guaranteed. More info about PD File Move
64-bit platform compatibility – Private Disk works with Windows x64, on AMD64 and IA-64 systems. At the same time, the program is able to run on older versions of Windows, including Windows 95. Windows Vista compatibility- Private Disk supports Windows Vista 32 and 64-bit
AES 256-bit encryption is the most secure encryption algorithm applied today, chosen as a state standard due to its strength and efficiency.
NIST certification of all the cryptographic components applied in this encryption software. Why use NIST certified encryption software?
Portability allows you to open your protected files on other computers by running Private Disk directly from a removable drive, without having to install it locally. The program can be migrated to a USB disk or flash memory card with a single click, while the built-in safe hardware removal routine will help you disconnect a removable disk quickly and safely.
Encrypted backups – create compressed encrypted backups of your protected data, making disaster recovery an easy process. Backups are also a common corporate policy.
Autorun applications – simplify your tasks and save your time by automating the execution of specific applications located on the encrypted drive.
Autofinish allows you to perform a broad range of tasks automatically (ex: remove temporary files), by letting Private Disk run specific applications when a disk is dismounted.
Data wiping – securely erase your encrypted data, making sure that recovery tools will fail to obtain fragments of your encrypted files.
Encryption key backup allows you to restore your protected files in cases when the media on which the encrypted disk is stored becomes corrupt.
Protects unattended computer - automatic disk disconnection – after a defined inactivity period – this will back you up in case the tea-break took longer than you initially planned.
Mount multiple disks simultaneously and manage your files in a better way, keeping them ordered by categorizing and cataloguing them; save time by cutting search times.
A broad range of media can be used to store the encrypted data. Among the supported storage units are external hard drives, flash memory cards, USB flash drives, iPods, etc.
Full customization of the program's look'n'feel: icons, hotkeys, optional command line arguments for usage in batch scripts, etc.
Flexible feature control – Autorun, Autofinish can be disabled without losing the customized lists of applications that have to be launched, while Disk Firewall can be disabled without deleting the white-list.
Hibernate control allows you to decide whether the disks will be left connected when the system hibernates.
User friendly licensing policy that allows you to use the same license of Private Disk on multiple computers without paying additional fees. More details in sales FAQ.
User friendly upgrade policy – upgrade to new versions of the software for free; get discounts for major updates.
Free unlimited technical support via phone and Internet: email, community forums, real-time remote assistance.
RELATED SOFTWARE DOWNLOADS FOR DEKART PRIVATE DISK - SECURE DISK ENCRYPTION