CyberLink PowerDVD 10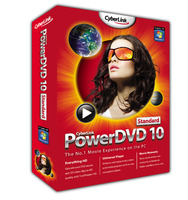 CyberLink PowerDVD is a 3D Video, HD, Blu-ray and DVD playback software helps you watch Blu-ray Disc and DVD movies on your PC/HDTV and offers the best HD, Blu-ray and DVD software playback around.
Use TrueTheater to up DVD quality for viewing on an HD display. Navigate easily using your DVD playback software with Fancy View, flipping through your movie titles and previewing content. There are plenty of other useful interactive features for die-hard movie fans and the casual viewer alike. Compatible with Windows 7, PowerDVD 9 DVD player software is truly the way HD and Blu-ray software were meant to be enjoyed!
PowerDVD 10, the consumer's favorite 3D, HD, Blu-ray & DVD player software, has now been optimized for 2nd Generation Intel Core processors that ensure silky smooth playback. Complemented by high-definition Dolby and DTS technologies, PowerDVD 10 now plays an extensive range of video formats including MKV, FLV, 3GP, converts 2D into 3D, and makes movies more social by sharing bookmark reviews and live comments with MovieMarks. Experience PowerDVD 10—the best HD, Blu-ray player available today. Download our free Blu-ray player software today for a 30 day trial.
Software Information
System Requirements
Version:
10.0.1909

Windows 8/7/XP/Vista/2003/2008
512M MB RAM
20MB Free Hard Disk Space

File Size:
122 MB
License:
Free to try, $49.95 to buy
Screenshot:
View Screenshot
Rating :
Main Features of CyberLink PowerDVD 10:
High-Definition Video Playback


Breathtaking Clarity - New and improved video technologies
Sharp, Bright Colors - Support for high definition video formats
Best Surround Sound Technology - Complete movie theater quality surround sound support





Freetyle UI - Choice is freedom


Choice is freedom - Choose from 5 UI modes and multiple skins
Dock mode - Access controls fom the bottom of the viewing screen
Wheel Control mode - Save space by providing only essential player controls
Mini mode - Get access to controls via the taskbar
Player mode - Move your floating panel of complete controls; select from a choice of colors
Fullscreen mode - Expand the viewing mode to fit the entire screen





Smart Utilities - For enhanced DVD viewing


Say-It-Again - Never miss a word
Read-It-Clearly - Move subtitles from your movie screen
Notebook Maximizers - Extend your notebook viewing time





UPnP Connectivity - Cut yourself loose


UPnP Connectivity - Play videos from any UPnP enabled device in your home network
Media Server - Connect to your Digital Home Media Server





Video Technologies


IMPROVED CyberLink Eagle Vision (CLEV)-2 brightens images and naturalizes colors. Allows users to manually adjust the level of enhancement
Smart Video Deinterlacing ensures a smoother and clearer video image. Provides a choice of automatic or user defined interlacing methods
CyberLink Pano Vision (CLPV ) stretches 16:9 and 4:3 video to fit the monitor size


Audio Technologies


CyberLink Multi-Environment Impression-2
(2-5->8-channel expansion technology), including Movie mode and two music modes: Standard and Onstage
CyberLink Headphone (headphone surround sound)
CyberLink Virtual Speaker (2-channel surround sound), including Living Room, Theater, and Stadium mode
Low Frequency Effects (LFE) mixes the LFE channel with front speaker channels
Dynamic Range Compression offers modes suited to Quiet, Noisy and Normal listening environments


Controls for DVD Enthusiasts


A-B Repeat loops a scene set by users
PowerDVD express menu provides quick disc controls via right-clicking the mouse
9X Digital Zoom for enlarging specified areas on screen
Dual Captions/Subtitles Display supports the viewing of two subtitle languages
Dual display mode enables movie playback on two screens
Color Profiles adjust movie colors while playing videos using a choice of user-defined or preset Original, Vivid, Bright or Theater profiles
Toolbar Controls Setup allows users to customize the tasks toolbar for playing discs
Select DVD Menu lets users navigate a DVD via the disc structure
Video Bookmarks enable quick access to a user's favorite movie scenes
Resume playback allows users to play a DVD from the last scene prior to stopping
Screen snapshots can be captured with a user-defined aspect ratio and saved as a bmp, jpg, gif or png file, as wallpaper or to the clipboard
External subtitle support allows playback via AVI, DivX and WMV files (supports SRT, SUB, SSA, ASS, PSB, and SMI extensions)
On-screen display (OSD) lets users define where video information is located
Changeable skins let users change the look of their control panel
Closed captioning support provides closed captioning for the hearing impaired


Features for Audio Enthusiasts


Audio visualizations provide onscreen image effects while playing music
Karaoke mode dampens music tracks to allow users to sing along with their Karaoke discs
Audio pitch scaling is a fun feature letting users adjust the pitch of video or audio files
Audio equalizer presets add atmospheric effects with presets like techno, blues
RELATED SOFTWARE DOWNLOADS FOR CYBERLINK POWERDVD