Creature Creator Pro - Basic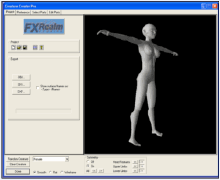 Creating humanoids, aliens, monsters, bugs, and other things that go bump in the night is an easy experience with Creature Creator.

Select the body parts that your character will consist of. You have over 50 parts to select from, and you can easily combine them by selecting from the drop down menus or stepping through them using the arrow buttons.
Everything you do will immediately be shown in real-time in the OpenGL window. The characters created will be seamless to make it easy to animate them later on.
Create unique characters quickly using the random creature options.
Select preference settings such as drawing colors, paths, and mouse handling.
Tweak and fine-tune your characters to make them exactly how you want them. When you select the part of the body you want to edit, it will be highlighted with a wireframe and you can then use the sliders to deform and modify it to fit your purposes and the look you are after.




Software Information
System Requirements
Version:
1.0

Windows 98/Me/NT/2000/XP/Vista
Pentium II CPU
256 MB of RAM

License:
Free to try, $135.00 to buy
File Size:
1.25 MB
Screenshot:
View Screenshot
Rating :
CC-Pro Revision Highlights:
Revised layout
Randomize sub-types
Symmetry options
Partial exports support
Export in WaveFront obj format
User-selectable mouse settings
Body part Lock buttons
Taper body part editing option
Enhanced mouse handling for 3D preview window
Creature Creator Pro Details:
Main Window
modified the layout for easier user access
revised button layout
modified Tab order to provide easier access
added body type drop list to select Creature sub-type
randomize creature can restrict selections to specified sub-type
current categories are: Fantasy, Female, Insect, Male, Manga
added Symmetry options
automatically mix and match current left and right body part selections
on/off selector to view original selections, or in symmetrical mode
maintains previous body part selections between symmetry operations
supports symmetrical body part groupings
current categories are: all, head, upper limbs, lower limbs
swap between viewing current left or right side variations
user-definable symmetry direction buttons for each grouping
Project Tab
changed buttons to standard windows toolbar type
added tool tips
added User Guide button
arranged buttons using 3D look-and-feel
Support for partial exports
now export head only models for facial animation's
will export single-part or multi-part models with missing components
(see also: Lock Buttons in the Select Parts section)
added WaveFront obj export option (stand alone version)
uses quad-based polygon export
provides smoother shading for current character modeling software
the preferred format for use as subdivision surfaces
now exports placed on ground
model facing modified to match standard obj orientation
option to use Curious Labs naming conventions
save projects as CC-Pro or in v1.6 format
provides for backward compatibility
CC-Pro users can share projects with v1.6 users
fixed mirrored exports issue
Preferences Tab
modifications to folder name's now updated at change time
color Selector buttons for background and wireframe colors
user selectable mouse settings (see also OpenGL Preview Window)
Select Parts Tab
Changed dual selector buttons to standard Windows spin controls
Added Body Part Lock buttons
lock or unlock individual body parts
Lock body parts as "off/none" for creating partial models
Locked body parts will not be affected during additional randomize actions
Edit Parts Tab
Changed dual selectors to standard Windows spin controls
added Taper edit option
automatically determines Taper orientation by body part type
taper parent or child ends of body part independently
taper entire body part as single unit
OpenGL Preview Window
Enhanced Mouse Handling
user selectable left/right transformation actions
added mouse zooming options
double click to reset translation or rotation settings
3-button support
fixed mouse dragging operations to remain in window
RELATED SOFTWARE DOWNLOADS FOR CREATURE CREATOR PRO-BASIC