ConceptDraw WebWave for Mac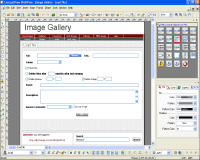 ConceptDraw WebWave for Mac is specially designed for professional web designers, webmasters, developers, architects and webdesign companies' management staff.
The product is essential tool on the stage of web site/application prototyping and design, page mocking-up and site-mapping.

ConceptDraw WebWave includes more than 4590 ready-made graphics, shapes, templates and wizards for quickly creating professional diagrams and drawings. The application runs both on PC and Macintosh and allows seamless files exchange and provides obvious benefits to individual and corporate users.




Software Information
System Requirements
Version:
5.8

Mac OS X 10.1.5 or later
CPU: G3 or higher processor
128 MB RAM
200 MB Hard Disk Space

License:
Free to try, $299.00 to buy
File Size:
62.1 MB
ScreenShot:
View ScreenShot
Rating:
ConceptDraw WebWave for Mac features:
Web Site Development Project
Integration with project management software is essential for web site development, and ConceptDraw WebWave is the first tool that supports working with task information. It allows adding start and due dates, duration, percentage of completion, cost and resources to any object from Web Site Map Shapes library that is used to plan a future site structure. The next step is to export this information into MS Project XML thus transforming it into complete project plan for further tracking and management.
Web Site Prototype Presentation
Site Prototype Builder can create a web site HTML presentation as well as builds a website prototype using the structure diagrams. You can preview a site structure, design and even a single page through a handy presentation template. To prepare a presentation just link shapes on a site map with hyperlinks leading to an image, CDD, TXT or HTML file that contains a page preview.
CSS Files support
Mock-up creation with ConceptDraw WebWave became much better due to the ability to apply user defined CSS files to a web page mock-up making possible to use existing color schemes, fonts and backgrounds.
Powerful Drawing Tools
ConceptDraw offers a set of vector drawing tools that can rival a professional illustration program. Besides, it knows what makes a diagram different from a drawing, and helps you create amazing diagrams quickly and easily. Customizable Grid and the Snap tool help position your shapes precisely. A number of Alignment, Distribution and Make Same tools will automate routine operations with multiple shapes. Unlimited number of layers is supported.
Alpha-channel (transparency)
The slider near Hide custom color button allows you to add transparency to your objects in order to make them more attractive or if you want to see objects located under. Move slider to the right to increase the transparency of the object and to the left to decrease it.
Smart Connectors
Lines stay linked to their shapes, so you don't need to redraw your diagram every time you move something. Smart connectors can flow around shapes on their way, display gaps or bridges where they cross other connectors. Every shape can be turned into a connector.
Flexible Interface
Quick-and-easy access to main tools and settings with customizable toolbars and floating dialogs let access main tools and settings quickly and easily. ConceptDraw WebWave adheres to the What You See Is What You Get principle and features anti-aliasing, bringing your diagramming to a new level of presentation quality.
Libraries & Wizards
ConceptDraw WebWave goes with dozens of collections of common shapes to help you create a number of different types of diagrams, and drawings.
Styles
Styles are visual elements that define the look of shapes in your document. ConceptDraw allows to copy styles from other shapes, create and organize your own styles.
MS Visio Support
ConceptDraw WebWave supports XML for Visio, allowing you to exchange documents with MS Visio users.
Import & Export
ConceptDraw WebWave imports and exports files to a large number of raster, vector, multimedia and text formats, making it easy to exchange data with other applications. Apart from most popular graphic formats, it supports AutoCAD DXF files, allows to create and edit MS PowerPoint files, export documents to PDF and HTML.
Intelligent Shapes
ConceptDraw shapes are highly customizable. You can assign custom properties to them, add user-defined context menus, create links to other shapes, files or programs. ConceptDraw Basic scripts can be associated with shapes, providing virtually unlimited control over them.
Built-In Script Language
The built-in script language - ConceptDraw Basic - and support for the open XML for ConceptDraw format, as well as a number of other formats provides developers with powerful means of building complex customized solutions based on the ConceptDraw WebWave graphics engine.
Free technical and customer support.
ConceptDraw WebWave provides FREE support, our experts are always ready to help you to achieve your goals, give qualified advice, tips.
RELATED SOFTWARE DOWNLOADS FOR CONCEPTDRAW WEBWAVE FOR MAC