ConceptDraw NetDiagrammer for Mac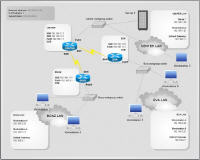 ConceptDraw NetDiagrammer for Mac has been developed for professional computer network diagramming, LAN scanning and visualization, preparation of network documentation, office/building/home network planning. The software is intended for network administrators, IT directors, network designers and engineers, and for everyone who finds detailed network documentation, diagramming and schematics critical.
The software includes large collections of task-specific shapes of network objects as well as templates, samples, and easy-to-use wizards.
ConceptDraw NetDiagrammer allows you to not only draw professional network and system diagrams and schematics but also all types of UML diagrams, floor plans and office layout drawings, flowcharts and dataflow diagrams, workflow and others.




Software Information
System Requirements
Version:
5.5.1

Mac OS X 10.1.5 or later
128 MB RAM
CPU: G3 or higher processor
HDD: 200 Mb

License:
Free to try, $299.00 to buy
File Size:
42.2 MB
ScreenShot:
View ScreenShot
Rating:
ConceptDraw NetDiagrammer Benefits:
FASTER TROUBLESHOOTING
Well-prepared visual detailed documentation created with ConceptDraw NetDiagrammer can help identify potential bottlenecks on the stage of network planning. And when problems arise, you can identify potential problem areas in a timelier manner.
PREVENT INFORMATION LOSS
Working on a regular base with ConceptDraw NetDiagrammer allows you to keep all your important network information in order, and when some employees leave the organization, this will bring no damage.
TIME SAVING
As long experience shows - Keeping the diagram of your network updated and complete SAVES YOU TIME!
INCREASE OF PRODUCTIVITY
Planning a network with specialized software raises the network stability and increases overall productivity of your organization.
CUT COSTS
Keeping your network documented cuts the maintenance and error fixing costs substantially.
ConceptDraw NetDiagrammer features:
Includes special libraries of highly detailed, accurate shapes and graphics of computers, servers, hubs, switches, printers, mainframes, faceplates, routers and other computer networks, telecommunications, wireless Internet, power, storage and other equipment. New specialized wizards.
Pre-assigned connection points on equipment ports
Quick-start templates for Active Directory, Basic Network, LDAP Directory, Logical Network diagram and other
Intelligent smart-connectors to connect components. Lines stay linked to their shapes, so you don't need to redraw your diagram every time you move something. Smart connectors can flow around shapes on their way, display gaps or bridges where they cross other connectors. Every shape can be turned into a connector.
Supports multiple layers to separate different areas of visibility
Rulers and Grid. Let you precisely position shapes in your documents, and measure dimensions of the shapes on the page. The Rulers and Grid use the measurement units set for the document.
Flexible Interface. Quick-and-easy access to main tools and settings with customizable toolbars and floating dialogs provide quick and easy access to main tools and settings. The software adheres to the What You See Is What You Get principle and features anti-aliasing, bringing your diagramming to a new level of presentation quality.
Styles. Styles are visual elements that define the look of shapes in your document. You can copy styles from other shapes, and also create and organize your own styles.
Powerful export/import capabilities. ConceptDraw NetDiagrammer imports and exports files to a large number of raster, vector, multimedia and text formats, making it easy to exchange data with other applications. Apart from most popular graphic formats, it supports AutoCAD DXF files, allows to create and edit MS PowerPoint files, export documents to PDF and HTML with hyperlinks.
Intelligent Shapes. ConceptDraw shapes are highly customizable. You can assign custom properties to them, add user-defined context menus, and create links to other shapes, files or programs. ConceptDraw Basic scripts can be associated with shapes, providing virtually unlimited control over them.
Built-In Scripting Language - ConceptDraw Basic - and support for XML ConceptDraw open format, as well as for a number of other formats, provide developers with powerful means of building complex customized solutions.
Shape Custom properties for storing detailed information on the network equipment
Rich text capabilities to annotate your diagrams and various backgrounds
Hyperlink support. You can link symbols, shapes or groups of objects to other diagrams, web pages, documents, spreadsheets, database files etc. and then them open by double-clicking.
Includes a collection of professional flowcharting, UML, web design, floor plan libraries of objects.
Connects to any point on a symbol on request or by fully defining connection points.
Group objects to create larger objects. Features include Group/Ungroup
Various measurement units: ConceptDraw NetDiagrammer supports: English (inches) or metric (millimeters) measurement units as well as pixels
Cross-Platform Compatibility. ConceptDraw NetDiagrammer is the only professional network diagramming software that works on both Windows and Macintosh platforms. All its documents and libraries are 100% compatible and can be exchanged hassle-free between the systems.
MS Visio Support. ConceptDraw NetDiagrammer supports XML for Visio, allowing you to exchange documents with MS Visio users.
RELATED SOFTWARE DOWNLOADS FOR CONCEPTDRAW NETDIAGRAMMER FOR MAC