checkMoney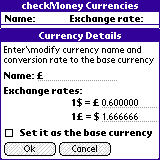 checkMoney is a smart money manager software and expense tracking application on your Palm, Handspring, Sony Clie and other Palm OS based handhelds.
How well you manage and track your money - whether you are spending it, saving it, or just do not know well enough - will determine your financial well being. If you don't think you can afford to save, look carefully at your expenses. Track your money - every dime - for couple of months. Then decide which expenses are important and which ones can be reduced or cut. You might be surprised where your money goes and that saving money is not too difficult.
You don't have to wait until you get home to your desktop or to get to the Internet, or wait for the bank statement to arrive to view account balances and transactions. Fortunately, your handheld, equipped with checkMoney, is a great tool for managing all your monetary transactions. checkMoney provides you with your most current account balances and transactions from your different financial accounts in one place. Convenient? You bet! Is checkMoney software worth a tank of gas, an oil change or a meal? It is for you to judge!




Software Information
System Requirements
Version:
3.0
License:
Free to try, $16.99 to buy
File Size:
875 KB
Screenshot:
View Screenshot
Rating :
Key Features of checkMoney:
Support for accounts of various types, such as checking, savings, money market, debit card, credit card, cash, asset and liability
Support for three operations, withdrawal bill, deposit and transfer
Support for transactions of various types: ATM, Card, Cash, EFT and Check
Built-in checkMoney calculator
Select payees and payers from your address book or define new ones
Strong encryption and security to safeguard your valuable data
Scheduled and memorized transactions
Built-in list of categories and sub-categories
Add/modify your own categories and sub-categories
Supports unlimited accounts and transactions
Delete, purge and rollup transactions capabilities
Adjust account balance
Over-limit and account minimum alerts
Allows split transactions into unlimited number of categories
Real-time account balance at the time of creating a transaction
Support for color palm OS based handhelds and Palm OS 5
Support for international decimal and date formats
Backup the entire checkMoney data to your desktop, anytime.
Restore transactions and accounts from your desktop.
Reconcile accounts to ensure that all transactions shown on your bank statement are properly recorded and cleared in checkMoney.
Powerful custom filter reports capabilities. You can get reports based on
Support for multiple currencies. Define your own currencies and exchange rates at the account level as well as at a specific transaction level
Display transactions in seven different ways: transaction type/payee, account/payee, category, transaction ID/payee, Account/transaction ID, account/category and transaction memo
Fast and robust, user friendly and clean user interface
RELATED SOFTWARE DOWNLOADS FOR CHECKMONEY