BigPicture Personal Fitness

BigPicture Personal Fitness is a virtual companion that helps you build a personal diet and exercise plan you can live and succeed with. It contains sophisticated nutrition and exercise journals, plus a variety of other related tools. The food journal contains instant information on thousands of foods, can generate nutrition stickers for your own recipes, and tracks virtually any kind of diet. The exercise journal let you see how many calories you burn performing your favorite activities, and charts both your cardio and strength training progress. Our unique weight loss consultant helps you combine diet and exercise to get results. Powerful, flexible, yet easy-to-use, BigPicture enhances your efforts to lose weight, stay-in-shape, and meet your fitness goals.


Software Information
System Requirements
File Size:
4.94 MB

Windows 8/7/XP/Vista
Pentium II CPU
64 MB RAM

License:
Free to try, $29.95 to buy
Rating :
Key Nutrition Benefits - The Food Journal is the most versatile nutrition tool you'll find anywhere. Keep track of your daily diet quickly and easily, and review your past records at any time. If the built-in database doesn't contain a food you like, add it in two easy steps.
Instant information on thousands of foods.
Fast nutrition facts for your own recipes.
Daily journal that helps you track and plan your diet.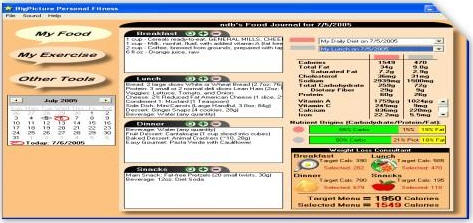 Key exercise Benefits - The exercise journal intelligently keeps track of any cardiovascular activity, sport, or strength training exercise you perform. Plus, when you're using the Weight Loss Consultant, it automatically adjusts your daily calorie budget based on how much exercise you perform.
See how many calories you burn doing your favorite activities.
Graphically chart your exercise and strength training progress.
Integrate with nutrition to enable successful weight loss.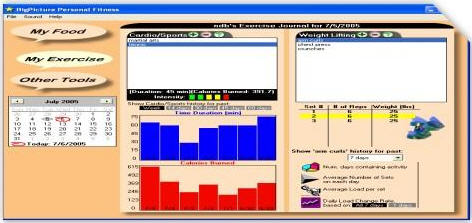 Key Weight Loss Benefits - Why buy into a diet that tells you what foods to eat? After a quick interview, BigPicture's sophisticated algorithm figures out how many excess calories must be burned to meet your weight loss goal on time. Then you pick meals and an exercise routine that fit with your lifestyle.
Get your BMI and let BigPicture help plan your weight loss program.
Choose how many pounds to lose and how long to take.
Pick foods and exercises that you like and support your goals.