AspMap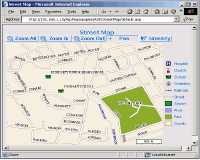 AspMap is a high-performance, Web mapping component for embedding spatial data access, display and analysis capabilities in ASP applications. AspMap gives you the ability to generate map images, drill-down capability, thematic mapping, point-to-point routing and other features that - generated on the server - will make the map images fully interactive on the client-side.
AspMap can create images in any standard image file format, or even send a bit-stream directly to the browser. Whether you have a local government web site, a real estate web site or a vehicle tracking web site, or if you provide location-based services, AspMap can give you the functionality you need to turn the occasional visitor to your site into a regular user.
This installation pack includes a fully functional trial version of AspMap, complete documentation, sample applications for Visual Studio, ASP.NET AJAX, and sample map data.





Software Information
System Requirements
Version:
4.60

Windows 7/NT4/2000/2003/XP/Vista
Pentium II CPU
256 MB RAM

License:
Free to try, $799.00 to buy
File Size:
16.10 MB
Screenshot :
View Screenshot
Rating :
Here are some key features of "AspMap":
Mapping Features
Multiple map layers.
Dynamic map layers.
Pan and zoom through map layers.
Scale dependent layer display - each layer has a minimum and maximum display threshold. Display only occurs when the current map's scale falls between the thresholds.
Automated relates from map data to databases.
Translucency support.
Draw points, lines, ellipses, rectangles, polygons, labels and text strings directly onto maps.
Thematic Mapping
Assign colors, symbols and shading to represent data values on the map.
Thematic maps can be based on individual values, ranges or expressions.
Spatial and Attribute Searching
Search for features along lines and inside boxes, areas, polygons and circles.
Search within a specified distance of other features.
Search for features using an expression.
Query attribute data associated with selected features.
Export selected features in Shapefile format.
A Variety of Labeling Options
Cross-layer smart labeling - labels are positioned automatically to prevent overlapping between labels.
Thematic labeling - enables control of label properties by using values in the customer's data. For example font size and color could be adjusted to correspond to a state's population.
Multi-line labels - allows text labels to appear on multiple lines instead of in one long string.
Highway/interstate labeling - provides the ability to assign highway shield symbols for highways/interstates.
Routing
Calculate routes between two points based on their coordinates.
Calculate the quickest and shortest routes (based on distance or time).
Generate turn-by-turn driving directions.
Plot generated routes directly on the map.
On-The-Fly Projection
Data from any projection can be combined into a common projection for viewing and analysis.
Built-in support for 378 geographic and 2706 projected coordinate systems.
Support for the OpenGIS WKT format for spatial reference systems.
Vector Data Sources
Shapefiles (SHP).
TAB files (TAB).
Databases - AspMap enables you to plot locations using latitude/longitude coordinates retrieved from a database.
Raster Data Sources
Image Export Formats
Help and Support
Detailed online documentation is included.
Free upgrades and updates are provided for one full year from the date of purchase.
Free technical support is given for one full year from the date of purchase.
RELATED SOFTWARE DOWNLOADS FOR ASPEASYZIP