ArtStudio Drawing Program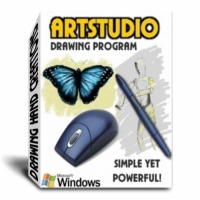 ArtStudio is a simple yet powerful windows drawing and painting program for all ages. It is a true drawing program with an easy to use interface that allows you to draw and rub colors quickly and easily! When developing ArtStudio the primary goal was to allow the user to draw without having to mouse clicks and keystrokes. Many drawing programs have a huge number of brush options which are not needed by most artists. Although the brush is limited what you can create with it is not.
You won't find any other drawing program like ArtStudio. It was developed by who is also a software engineer. He not understands how to draw & paint but he also knows how to create software.
ArtStudio also allows you to display photos, doodle on the photos, add text to the photos and then replay your creation as your screen saver or e-mail it as E-mail Art.
Software Information
System Requirements
Version:
New

Windows 8/7/XP/Vista
512 MB of RAM
16-bit color display or greater
50 MB free disk space

License:
Free to try, $29.95 to buy
File Size:
4.70 MB
Screenshot :
View Screenshot
Rating :
Features List of ArtStudio Drawing Program:
Create drawings for the Drawing Hand Screen Saver. Use ArtStudio to create your own drawings for the Drawing Hand Screen Saver.
Export the drawings you create as JPG, BMP, EMF, FPX, MAC Pict, PSD, TGA, TIF & WMF files.
Send your artwork files to someone who can then replay them with the free Artwork Player.
Display your artwork files on your web site with the Artwork Player ActiveX control.
Play your artwork files as your screen saver with the free Artwork Screen Saver included with ArtStudio.
Create custom color palettes by rubbing colors together the way a painter would.
Name and save your custom palettes so that they can be reused later.
Quickly change the brush size, density, transparency and stiffness with a single mouse click.
Use an image (JPG, BMP, EMF, FPX, MAC Pict, PSD, TGA, TIF & WMF.) as a trace image to help you draw.
Save your drawing as an E-mail Art so that it can be sent to someone via e-mail. The recipient can then replay your drawing on his/her desktop. This method does not require the Artwork Player but the file size will be larger.
Easily perform screen captures to add images to your artwork.
Display a customizable grid to assist you while drawing.
Create image layers from bitmaps in the clipboard.
Create layers from selections on your drawing/artwork.
Magnify tool that magnifies areas of your drawing/artwork.
Play your artwork files as your screen saver with the Artwork Screen Saver.
Print your finished artwork.
Play sounds (wav or mp3) with image, art, doodle and text layers.
The on-line help contains a drawing tutorial.
Quickly switch between drawing and rubbing by holding down the Shift key.
Preview and optimize the compression of images used in the artwork.
Fade images layers in and out of view.
While creating your artwork you can move to the various layers using VCR like controls (Previous Layer, Next Layer, Rewind, Play...)
Print or Print Preview your artwork.
Display a layout view of all your layers to help you align them.
Cut, Copy, Paste, Clear and Delete layers of text, images, art or doodles.
Create text layers using the fonts on your system.
Convert a text layer to an image layer.
RELATED SOFTWARE DOWNLOADS FOR ARTSTUDIO DRAWING PROGRAM