Advanced Biorhythms 2006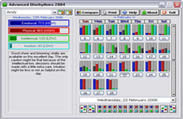 Advanced Biorhythms is a program that forecasts your emotional, physical, intellectual, and intuitional activity cycles, also known as biorhythms. Advanced Biorhythms has unique user-friendly interface: handy calendar of cycles and extended info panel gives you all the information you might need (including comprehensive prognosis and advice of the day). Experienced users will love some additional features. Discover the most favorable days of your life and be ready to face the bad ones. Make your day with Advanced Biorhythms!


Software Information
System Requirements
File Size:
632 KB

Windows 98/ME/NT/2000/XP
Pentium II CPU
64 MB RAM

License:
Free to try, $17.00 to buy
Screenshot:
View Screenshot
Rating :
What are Biorhythms?
Let's take nature as an example: there are four biological cycles: spring, summer, fall, and winter. It is repeatable process that never stops. People also have their personal cycles such as emotional, physical and intellectual. According to the science of Biorhythms, each of these rhythms goes through three different phases; high, low and critical.

Generally speaking, the more positive a cycle is at any given point in time, the better one is able to interact in that arena. For example, high emotional level tends to mean that a person is more stable, is better able to make relationship decisions, and so on. This is not to say that when the cycle is in the negative range that the person is not doing well in that arena, rather, it means that it is harder to do well. Plan exams when your Intellectual cycle is high.

According to the theory, when certain points on the cycles are reached a person may enjoy special strength or suffer special weakness. "Switch point days," when cycles cross the zero line on the ascent or descent, are "critical" days. Performance on critical days is supposedly very poor. It has even been predicted that people are especially accident prone on critical days. In fact, studies have show then there is a 30-60% greater risk of an accident during those few critical days that a person experiences every month. It can pay to be more cautious on these days.

In any case, according to the theory, critical days are days you want to know about in advance so you can prepare for them. For example, if you are scheduled to take a test that will measure your thinking ability, make sure you do not take the test on a day when your intellectual cycle is at a critical or a low point. Of course, to do well one must also get a good night's sleep, be generally healthy, eat properly, and study, but those preparations will do you no good if your intellectual cycle is not in the right spot. On the other hand, if you are a long distance runner, try to pick your next race date so that you are at a peak on your physical cycle. Of course, you must train properly, eat well, get sufficient rest, be healthy, etc., but these will not suffice if your physical cycle is at the wrong point.
Relationship Advice

Each of biorhythms has its sphere of influence. Their compatibility or incompatibility influences our relationships with other people in different ways. Compatibility of biorhythms in love and family affairs can be well observed. There are nine possible combinations:
1. Three biorhythms are incompatible. External appeal, sex, money and a habit can be a reason of marriage. There is only a phantom of family. At the beginning of relationships there is the illusion that feelings exist, but it disappears as times goes by. When love has gone and there are no children or property, the family breaks up. Otherwise spouse are roommates who are dependent on each other financially, who torture each other and carry out a role of vampires, spoiling life of their own kids.

2. Physical biorhythms are compatible. There is a strong physical attraction between partners and what is more a complete sexual satisfaction, which is the only reason for many families not to break up. But the partners need more than sex. A spiritual warmth and mutual understanding are also necessary. There is lack of it.

3. Emotional biorhythms are compatible. The partners feel as if they haven't had such feelings before, especially from the woman's point of view. But in a period of time the man becomes indifferent, he is not satisfied with sex any more, love is passing away. It's difficult for a woman to submit, it's a kind of a tragedy for her. She can do everything to get him back, and then to get hold of him and make use of his powers.

4. Emotional and physical biorhythms are compatible. The situation is rather knotty. Partners clash very often, despite of a mutual attraction and sexual satisfaction. Women dream of getting hold of a partner and keeping him. It frightens a lot of men struggling for the independence and trying to free themselves of the persistent care.

5. Intellectual biorhythms are compatible. The partners feel something similar to love, especially from the man's point of view. A woman can be attracted by the partner's ready tongue or his wits, but it becomes boring in a period of time. She finds nothing that brings warmth to her soul. The man starts to struggle for the happiness and women who marry such men are not lucky at all.

6. Intellectual and physical biorhythms are compatible. Women should be cautious! The partners have deep feelings similar to love. There are both an attraction and complete sexual satisfaction. At first women are very interested in sex appeal, IQ and other partner's positive traits of character impress them. Then a woman loses the interest and feels an emptiness of soul. The man does everything to conquer such a woman.

7. Intellectual and emotional biorhythms are compatible. It is a Platonic love. Everything is good except sex. It is a variant of friendship and cooperation at all levels, a good choice for a secretary but not for a sexual partner. Young people whose feelings are developed more than their intimate relations can fall into such a trap. Sexual relations are very rare in such families or they don't exist at all. It is better for partners to have a rest from each other and sleep apart.

8. Three biorhythms are compatible (60-80%). There is stability, warmth and mutual understanding, which could be even stronger. People satisfied with reality are happy to have family relations that remind friendship. Perfectionists, who are looking for complete harmony, can destroy everything they should save.

9. Three biorhythms are compatible (more than 80%). The true feelings and perfect sex are possible. Such couples can say that nobody knows what real love is: you needn't speak about feelings, you'd better feel it! There are clever, beautiful and healthy children in such families. They are always a success in life except the cases when they look for troubles.

So, we have the characteristics of relationships from the biorhythmic point of view. Certainly, life is more complicated than theories and formulas. We can't always be together with the one we want. But we can avoid a lot of problems by choosing the right partner.
Compatibility Test
Biorhythm compatibility is the percentage that two individual's emotional, physical, and intellectual rhythms are in the same high, low or critical phase. Since all three rhythms begin at the critical (zero) point on the day of birth, they differ from person to person. Because the rhythms are mathematically constant, compatibility does not change on a day-to-day basis.



Compatibility helps to explain why or why not you get along with someone in a particular way. Preliminary research on Biorhythm Compatibility has show that:

1) People generally get along better when they have high compatibility percentages.

2) People with diverse compatibility percentages get along well provided that they are willing to accept and concede as confrontations develop.

3) In a minority of cases, individuals actually prefer opposites and will actually get along well with someone with drastically different biorhythms because they strike a balance.