AccessDiff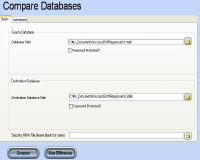 Easily compare access databases with AccessDiff. AccessDiff is an Access Database comparison tool that compares objects with the same name between two Access databases. It also detects missing objects in either the source or destination. Records are compared based on the primary key. After the database comparison is performed, the differences can be printed out in a report or exported to Excel.
AccessDiff compares forms, reports, macros, code modules, queries, tables and records.
AccessDiff supports Access 2000, 2002, 2003, and 2007 Databases. Access 97 databases are not supported. If you need to compare two Access 97 databases, convert them to Access 2000 or higher. When comparing Access databases you must have an Access version installed on your machine equal to or higher than the Access database you are trying to compare. For example, if you have Access 2000 installed on your system you cannot compare Access 2002 or higher databases. Fortunately, when creating databases in Access 2002 and Access 2003 the default is to create an Access 2000 database.





Software Information
System Requirements
Version:
4.0.28

Windows 7,NT,ME,2000,XP,Vista
Microsoft Access 2000, 2002, or 2003
Pentium II or higher
64 MB RAM
15 MB Hard Disk Space

License:
Free to try, $169.95 to buy
File Size:
5.42 MB
Screenshot :
View Screenshot
Rating :
Key Features of AccessDiff:
Compare Toolbars and Menu Bars
All custom toolbars and menu bars are compared. The properties of individual command buttons are compared.
Compare Forms
All visual elements of the form are compared. The code module if any is compared. AccessDiff automatically ignores any white space differences. Missing tables and queries are automatically detected and logged.
Compare Reports
All visual elements of the report are compared. The code module if any is compared. AccessDiff automatically ignores any white space differences. Missing tables and queries are automatically detected and logged.
Compare Macros
All properties and commands of the macro are compared
Compare Modules
The full text of the module is compared. AccessDiff automatically ignores any white space differences
Compare References
Detects broken references. Detects version differences. Detects missing references between the source and destination databases
Compare Data Access Pages
All elements are compared.
Compare Table Relationships
All relationships between tables are compared. All properties of the relationships are compared
Compare Table/Field Definitions
Compares the existence or non-existence of tables between the source and destination databases and all field definitions.Detects column property differences. Detects table index differences.
Compare Queries
The SQL between the source and destination databases are compared. AccessDiff automatically ignores any white space differences. Missing tables and subqueries are automatically detected and logged
Compare Records
Detects all record differences based on the primary key
Compare Text Files
Performs intelligent code comparison for VBA, VB, VB.NET, TSQL, C#, Java, Javascript, and PHP
Compare Snippets
Compares two code snipets
Word Difference Highlighting
Highlights word differences during code comparison
Startup Forms
Supports startup forms and AutoExec macros
Table Data Differences
Table data difference report
Documentation
Industry standard formatted help is included
RELATED SOFTWARE DOWNLOADS FOR ACCESSDIFF