Digital Camera Media Studio - Convert Video/DVD to digital camera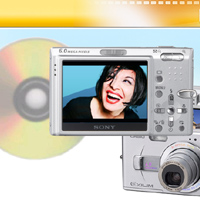 Software turns digital camera into portable DVD and media center

A world's first: watch movies, TV and video on Digital Photo Camera ! Use your camera as portable media center. DVDs, recorded TV, downloaded films and all other video content can be watched on your Sony Cybershot or Casio Digital Camera, in great quality, in full screen. The software installs on your PC, you insert a DVD or transfer a video from your harddrive and with only two clicks, you have it on your camera, ready to watch on the go. A 512 Mb memorycard is enough to store a couple episodes of a tv-series, a full length feature film, or hundred minutes of video presentations. Let your children watch their favourite TV-cartoons in the car or watch a blockbuster movie while travelling for business. Connect your camera to a TV set (with the tv-out cable that comes with the device) and your camera doubles as a super-compact DVD/video player that displays the media content on TV. This PC software converts all media (AVI, 3GP, MPEG, VOB), coming from any drive (hard disk, DVD, CD, etc) to a portable movie file, which will play on any compatible SONY or CASIO camera, from a postage stamp size memory card.

Digital Camera Media Studio is the only software on the market worldwide that can encode the Sony MPEGMOVIEVX format. It provides direct DVD-to-Camera transfers and also the speediest. In less than 45 minutes, a movie can be transferred from DVD to digital camera. Subtitled and foreign language DVDs are also supported.



Software Information
System Requirements
File Size:
6.59 MB

Windows XP / 2000 / NT
Pentium II CPU
64 MB RAM
A minimum OF 512 MT memorycard is needed for A full DVD

License:
Free to try, $32.95 to buy
Screenshot:
View Screenshot
Rating :

Digital Camera Media Studio is a Video and DVD to Digital Camera Converter allows you to of Convert DVD, video, home movies, downloaded content and TV to Sony Cybershot or Casio Exilim digitally camera in two clicks! It supports 120 Sony and Casio models.

Supports the following 120 digital camera models from Sony and Casio

SONY CYBERSHOT F505, F505v, F55v, F707, F717, F77, F828, F88, FX77, H1, H2, H5, L1, N1, P1, P10, P100, P12, P120, P150, P2, P20, P200, P30, P31, P32, P41, P43, P5, P50, P51, P52, P7, P71, P72, P73, P8, P9, P92, P93, R1, S30, S40, S50, S60, S600, S70, S75, S80, S85, S90, T1, T11, T3, T30, T33, T5, T7, T9, U10, U20, U30, U40, U50, U60, V1, V3, W1, W100, W12, W17, W30, W40, W5, W50, W7, W70

CASIO EXILIM M1, M2, M20, S1, S100, S2, S20, S3, Z10, Z110, Z120 Z3, Z30, Z4, Z40, Z50, Z500, Z55, Z57, Z60, Z600, P505, P600, P700 QV-2100, QV-2300UX, QV-2400UX, QV-2800UX, QV-2900UX, QV-3000EX, QV-3500EX, QV-3EX QV-4000, QV-5700, QV-7000, QV-R3, QV-R4, QV-R40, QV-R41, QV-R51, QV-R52, QV-R61, QV-R62 .