Deploy Master - installation builder

Deploy Master is the solution you need to distribute your Windows software or other computer files, via the Internet or on CD or DVD, With Deploy Master You Can Easily Build Professional Setup That Will Impress Your Customers!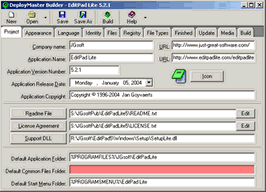 Deploy Master is the no-nonsense installation builder that will deliver your software with a good first impression: a smooth installation. Computer novices enjoy its ability to install your software without asking any questions, while computer experts enjoy the control and feedback it offers when they click the Advanced Options button. You will enjoy both the positive response from your customers and the ability to effortlessly build those setup packages with DeployMaster. No need to learn a new scripting language
DeployMaster works with Windows 95, 98, ME, NT4, 2000, XP and 2003. You can build your installation package on any of these platforms, and deploy it to all of them.



Software Information
System Requirements
Version:
2.8.0

Windows 9x/Me/NT/2000/XP/2003
Pentium or similar processor
64MB RAM

File Size:
1.79 MB
License:
Free to try, $99.00 to buy
Screenshot:
View Screenshot
Rating:
Key features of the setup packages Deploy Master builds:
Quick, painless deployment for computer novices
Advanced Options button for plenty of control and feedback for computer experts.
Single-exe self-extracting setup, or a collection of 1.44MB files for easy downloading or floppy disks.
Automatic uninstaller.
It can add and remove components from a previous setup without requiring an uninstall first.
Loads instantly and deploys files quickly.
Fully GUI-driven. No need to learn another scripting language.
Can build packages from the command line, so you can use it with your make tool.
If you need more power, build a support DLL in your favorite programming language. C and Pascal sample sources included.
The interface of the setup package can be completely translated into any language. The language files can be edited by a translator with nothing but a text editor.
The Setup Packages Deploy Master Delivers:
DeployMaster is unique in that it accomodates both the needs of inexperienced computer users and those of advanced users. People who do not understand much about computers do not appreciate that software needs to be installed before they can use it, and certainly not that the setup program asks difficult questions they do not care about. The computer should make their life easier, not more difficult. When you deliver your package with DeployMaster, all these people have to do is click the "No-Questions-Asked Installation" button, accept your license agreement (if you included one) and DeployMaster will do the rest.

Advanced users who want full control of their machines, will immediately click the "Advanced Options Installation" button when installing a package delivered with DeployMaster. They can change the destination folders, prevent file associations from being taken over and select which components should be installed. It gets even better: the component selection can at the user's option show each and every file that will be copied onto the hard drive, reassuring your computer expert customers that your software does not use system folders as a trash can.

DeployMaster is also very fast. When launching the single-exe self-extracting setup, about 200K is loaded into memory and the setup program appears. No need to stare at a progress bar stuck at 99% for three minutes, even if the setup is placed on a slow floppy disk.

Speaking of floppy disks, if you still use them, DeployMaster can chop the single-exe setup into 1.44MB chunks that fit nicely onto floppies. You can also put these chunks onto your web site so your customers can download the small files one by one. Huge downloads are often troublesome, certainly for people with slow dial-up connections. The setup program will see if all the chunks have been downloaded into a single folder and not ask for disk two, but automatically find it.

Naturally, after installing the software you delivered with DeployMaster, an entry for it will have been added to the Add/Remove Software applet of the Control Panel. The uninstaller will remove all files copied, all registration keys created and revert all file associations (unless those were changed later by the user, in which case removing them is not appropriate).

Upgrading your software is also very easy. Supply your customers with a new version of the setup, and it will automatically notice a previous version is already installed. It will tell this to the user and take over all settings made through "Select Components and Install" or "Advanced Options Installation" from the previous version.

Adding and removing components is also very straightforward for the user. If the setup is run again (whether it's the same version or a newer one), and a different choice is made in the component selection screen, newly selected components will be copied and components that were installed and have been deselected, will be removed.


Building Those Setup Packages

Building a professional self-extracting setup program could not have been easier. Use DeployMaster's GUI Builder program to specify all of your applications details. Create application components and add folders, files and shortcuts to them. Specify registry keys to be created and their values, or dummies for uninstallation only. DeployMaster can also associate your application with the file types it uses.

If you are using an automated make tool, you will be happy with DeployMaster's command line feature. Specify the setup package and the /b parameter on the command line, and it will be built quickly.

There is no need to learn some kind of awkward scripting language to build powerful setups. If DeployMaster's standard functionality is not enough (this will hardly ever be the case), you can extend its functionality with a support DLL you can develop in your favorite language that can compile Windows DLLs. The setup program will call specific functions in this DLL at predetermined moments before and after the installation. Source code in C and Pascal for a sample DLL is provided. Things you would typically want to do with a support DLL is check the computer for required packages (if your software is an add-on, the base application must be present), verify registration codes or serial numbers, or initialize the software after it has been installed (like creating a fresh database file, registering the add-on with the base application, etc.)

While DeployMaster itself is available in English only, you can deliver setups in whatever language you want. All text used in the setup program can be translated by you. The language files are external plain text files, so you could give them to a professional translator to have them translated into the language of your customers. Download the DeployMaster Language Pack to use the language files created by other developers who distribute their software with DeployMaster.
More Deploy Master Screenshots - Click each image to enlarge!