Flash Decompiler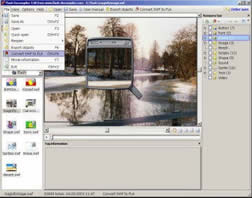 Flash Decompiler is a popular solution for Flash designers especially to edit and completely extract any SWF file. Even if you've lost your FLA, with our multi-featured decompiler for SWF you can convert the whole Flash movie into FLA, or some of its elements only.
With Flash Decompiler you are only one click away from parsing any SWF (Shockwave Flash file format) and saving decompiled sounds, images, videos, shapes, frames, morphs, fonts, texts, buttons, sprites and ActionScripts directly to hard drive.
Starting from version 2.0 Flash Decompiler can convert SWF to FLA with yet unseen quality. Select the SWF you want to convert to FLA, choose the desired settings in the "export objects/convert to FLA" dialog or simply leave the optimal default ones - and another click results in the original FLA file on your hard drive!
This powerful SWF decompiler lets you extract Flash movie elements and view them as separate items. For more convenience when importing back to Flash, Eltima's SWF decompiler allows you to export all decompiled content in numbered files and use SWF file name as subdirectory path.




Software Information
System Requirements
Version:
2.9

Windows 2000, 98, Me, NT, NT, XP, Vista
Pentium II CPU
64 MB RAM

File Size:
4.02 MB
License:
Free to try, $59.95 to buy
Rating :


SWF Browser and Viewer:
Easily browse your hard drive for Flash movies and add SWF files to quickly accessible Favorites folder. Enjoy several explorer view styles with an exceptionally handy "Thumbnail view". Flash Decompiler will play selected items or show preview of decompiled SWF elements in a built-in Flash viewer. Drag the image, zoom in/out or view the original size - as you like.

Convert SWF to FLA
Convert SWF to FLA Flash Decompiler delivers the best functionality and user-friendly way for full conversion of SWF file into FLA. Alternatively, you can convert texts, sounds, shapes, morphs and images into FLA, or use "SWF replacer" feature to change the SWF the way you want. Whether you need to convert the whole SWF to FLA or only a few elements, or may be simply add new sound to the Flash movie with Flash Decompiler you can do a lot!

Convert SWF to MP3, SWF to JPEG and more:
Flash Decompiler exports resources into multiple formats: you can save sounds as WAV and MP3, images - as PNG, JPEG and BMP,videos - as FLV (Flash video format). Its SWF converter power will let you export texts into RTF (MS Word format), TXT and HTML. An absolutely unique feature of Flash Decompiler is that in case you are dealing with an SWF where texts can only be identified as symbols, it lets you choose the corresponding letters so that you get clear text in the decompiled file as a result.

Flash EXE Decompiler:
You can decompile Flash projector files in the same easy and fast way as common .SWF files.

SWF Replacer:
A totally new feature in Flash Decompiler lets you replace images, colors, gradients, lines and sounds in SWF files. You can completely change the way SWF files are created and edit them yourself without the need to recompile them into FLA.

Make Screenshots:
Extra bonus from Flash Decompiler easily make screenshots and create stunning images of various SWF parts on the go.

ActionScript Decompiler:
Not only do professional Flashers enjoy using this tool, but beginners as well find it exceptionally helpful for given opportunity to peek at the code of most advanced Flash intros, sites and other Flash animations. You can view decompiled ActionScripts as Actions, pi-code, dump or pi-code+dump. ActionScript decoding supports a broad variety of tag combinations and incorporates a handy Search function.

Navigation and Interface:
Our SWF decompiler enables you to reach any of the elements among multiple items in decompiled class, as it has an exceptionally convenient Grouped showing mode implemented.

Flash Decompiler will give you detailed information about shapes, images, morphs etc, also tracking their placements in frames and sprites and even reflecting original names of frames, ActionScripts and sprites. To see all objects used in a certain frame, simply click it and a full list will appear.

With several interface skins and layout options you will customize Flash Decompiler to meet your personal taste and needs.

Flash Decompiler represents an advanced feature-set and a clean user-friendly Interface, which will make it a pleasure for you to use.

Flash Decompiler Full features list:
Convert SWF into FLA
Export Flash Video into AVI and other playable formats.
Easiest and fastest one-click decompilation
Intellectual preview of decompiled SWF elements
Extract sounds, images, videos, shapes, frames, morphs, fonts, texts, buttons, sprites and ActionScripts with a single click
Export into multiple formats
Export shapes, images, sounds, morphs and texts into FLA
Decompile EXE (Projector) files
Unique SWF Replacer: edit SWF files replacing lines, images, sounds, colors, gradients and more!
ASCII, Hex, binary memory dump
Grouped showing mode for multiple items in decompiled class
Selectable background color for SWFs
Detailed tag information
Convenient tags navigation with tracking their placements in frames and sprites
Detailed movie information
Browse through your SWF's with easiness
Flash Decompiler SWF Capture Tool enables you to save any Flash movie you see on the Internet to your hard drive with a single click on the built-in button in Internet Explorer.
View and play your SWF files directly in Flash Decompiler
Compressed SWF files support
The system of favorites for easy navigation
Intuitive user-friendly interface
Interface skins - Customize Flash Decompiler to meet your personal taste and needs
Predefined interface layouts
Multilingual interface
Editable interface languages. Help us translate Flash Decompiler into your native language and we will be glad to offer discounts on our products or even free license
All Flash versions supported for decompilation (converted FLA files are editable starting with Flash MX)