cWatch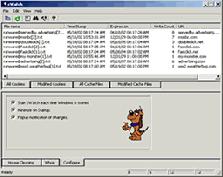 cWatch monitors your Cookies and Cache and will notify you when things are changed or added.
If you want to know where a Cookie came from you simply right-click on it and you get contact information on who owns the domain the cookie came from, visit their site and search for email addresses to complain to.
cWatch can delete Cookies you've selected as soon as they appear, or mark them so they won't be deleted when cWatch does it's House Cleaning. You can also clear your Cache any time you wish or automatically when cWatch is shut down.
There are 16 areas of your computer that you can clear out instantly or automatically when cWatch is shut down. This means that you can not only hide what you do on the Internet but also what you've done on your own computer!




This software is not available now.




Software Information
System Requirements
Version:
1.5

Windows 9x/Me/NT/2000/XP
Pentium or similar processor
32MB RAM

File Size:
446 KB
License:
Free to try, $9.95 to buy
Screenshot:
View Screenshot
Rating:
Here's a list of some of the many things cWatch can do for you:
Works with all current versions of Internet Explorer, Outlook, Outlook Express and the Explorer.
Dynamically monitor you Cookies and your Cache files.
Notifies you when changes occur, not only at shut down.
2 different notification methods.
Protect Cookies you don't want automatically deleted.
Automatically delete Cookies from domains you select as soon as they are placed on your system.
Visit the owner site of any cookie you've found on your system.
Do a Whois search for the owner of a domain and find out how to contact them in the Real World.
Automatically delete data and files from 16 different areas of your computer.
Launches automatically when your system boots.
Clean any or all your system areas at the click of a button or do them one at a time.
Cleans out all of the areas that could be used to trace what you've been doing and where you've gone.
Easy to configure and use, once you've set cWatch up it run's it's self.
cWatch is NOT a proxy, it doesn't get in the way of your browsing, email or Usenet news.
cWatch does NOT track or monitor what you do or where you go on the Internet.
cWatch does NOT presume to tell you what is and isn't a "proper" web site to visit.
RELATED iPod SOFTWARE DOWNLOADS