Crazi Video for iPod - 3GPP, 3GPP2, DAT, MKV, DV, OGM, RAM to iPod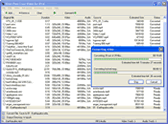 You probably have found that your iTune doesn't accept all the video in your collection, and even if iTune accepts it, it will give an annoying "Cannot transfer to iPod" message when you sync your iPod.
River Past Crazi Video for iPod is the easiest way to put video on iPod. It accepts a wide range of video formats - 3GPP, 3GPP2, ASF, AVI, DAT (VCD), DivX, DV, FLIC animation, Animated GIF, MKV, MOV, MP4, MPEG-1, OGM, RAM, WMV and Xvid, and output to iPod compatible MPEG-4 video file. You can also extract audio from those video formats, or convert AC3, FLAC, AIFF/AIFC, APE, AU, MP3, MPA, MPC, RA, SD2, SHN, MKA, OFR , OGG, SND, TTA, WAV and WMA audio to iPod-compatible MPEG-4 AAC audio.
Although G5 iPod's screen is 320x240, it can play video with resolution up to 480x480.
Other software will always scale the video to 320x240. We determine the best resolution for the iPod automatically, reserving the best video quality with the smallest file space and complete compatibility. It even take the aspect ratio into account so your video look just right, whether it is a wide movie trailer, or a vertical video recording from a cell phone.
Software Information
System Requirements
Version:
2.8

Windows 8/7/XP/Vista
DirectX 8.0 or
QuickTime 7.0.3

File Size:
9.5 MB
License:
Free to try, $29.95 to buy
Screenshot:
View Screenshot
Rating :

Key Features of Crazi Video for iPod :

It is compatible with almost every video format out there, from Windows' AVI and WMV, MacOS's MOV and MP4, open source OGM and MKV, to mobile phone 3GP. It automatically set the best video resolution, frame rate, audio sample rate and bitrate for the conversion so you don't need to be a video expert to use this product.

Input Format:

River Past Crazi Video supports a wide range of input video file formats:
3GPP/3GPP2 Mobile Phone Video (*.3gp, *.3g2)
Audio Visual Interleave (*.avi)
VCD Media File (*.dat)
DivX Video (*.divx)
Digital Video (*.dv)
Autodesk Flic Animation (*.flc, *.fli)
Animated GIF (*.gif)
Intel Video Technology (*.ivt)
Matroska(*.mkv)
Apple QuickTime (*.mov, *.qt)
MPEG-4 (*.mp4)
MPEG-1 Video (*.mpeg, *.mpg, *.mp1)
OGG Media(*.ogm)
RealMedia (*.rm, *.ram)
Windows Media Video (*.wmv)
Xvid Video(*.xvid)
It also support the following input audio formats:
Dolby Digital (*.ac3)
MacOS AIFF (*.aif, *.aifc, *.aiff)
Sun Microsystem and NeXT audio (*.au, *.snd)
MPEG Layer-3 audio (*.mp3)
MPEG Audio (*.mpa)
OGG Vorbis (*.ogg)
RealAudio (*.ra, *ram)
Sound Designer 2 (*.sd2)
Audio for Windows (*.wav)
Windows Media Audio (*.wma)
Output Format:
Crazi Video for iPod creates iPod-compliant MPEG-4 video.
Batch Converter:
River Past Crazi Video is a batch converter. You can add a list of files and let it run. A well organized progress dialog will predict how long it takes to convert all the files, so you can do something else and come back when it finishes.
RELATED iPod SOFTWARE DOWNLOADS