Clean It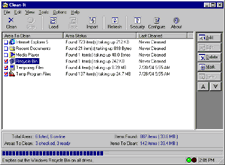 Clean It is an easy to use system cleaner and more! You can add, edit, or delete any area. Plus you control all the area options including Area Name, Path To Clean, Include Filter, Exclude Filter, and you can even choose from 52 available icons. Stock icons are included for Internet Explorer, Netscape Navigator, American On Line, CompuServe, Prodigy, The Microsoft Network, and more. But it doesn't stop there. With it's Plug-In support Clean It has the power to clean anything. Clean It is the perfect application to keep your machine clean!
This very simple and easy to use utility will clean up your Internet Cache, History, Cookies, and more. You control the options. You control which files to delete and which to save. Clean It can be configured to clean any type of file(s) from your system. You can clean just a single file type or all the files in a single folder, a full path of folders, or from your whole system. Once again you have total control over all the options Clean It will use to seek out and remove those unwanted files from your computer.




Software Information
System Requirements
Version:
3.08

Windows 9x/Me/NT/2000/XP
486DX or higher processor
32MB RAM

File Size:
336 KB
License:
Free to try, $29.95 to buy
Rating:
Key Features of Clean It :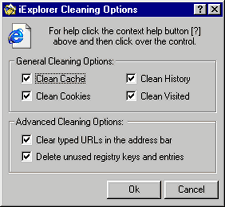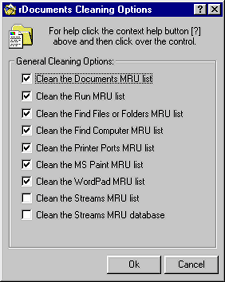 Attractive, easy to use interface.
With its Plug-In support Clean It will continue to grow and clean any part of your system.
Includes stock Plug-Ins for Internet Explorer, Netscape Navigator, Opera, Recent Documents, Media Player, and more.
Password protection so it's safe to use on public computers or computers with small children.
Ability to add custom areas to the list to clean any part of your hard drive.
Ability to edit and customize any area in the list.
You can organize the areas anyway you like.
You can view the items that will be removed with each area.
Complete control over all the area options.
Ability to change the area name to anything you like.
Modify or delete any of the stock areas.
You can modify the Include File Filters.
Even supports Exclude File Filters.
Option to scan sub folders for files to delete.
Option to delete sub folders if empty.
Includes icons for all major browsers and on-line services.
You control how warnings and error messages are handled.
Choose which areas are cleaned at start up.
Option to run Clean It when Windows starts.
You can even run Clean It in the background for trouble free maintenance.
Includes command line switches for auto start and background cleaning.
Displays the space used and the space Clean It will free.
Quick and easy context sensitive help by using the F1 function key.
Includes complete install and uninstall support.
Check for updates directly from within Clean It.
And more...