Calendarscope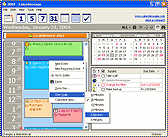 Calendarscope is a full-featured calendar software for planning, managing, and scheduling appointments, meetings, birthdays, vacations, special events. It allows you to view all your events in a daily, weekly, monthly, or yearly overview.You can get a quick look at the events of a single day in any calendar view.

Using Calendarscope, you can create single or recurring events & tasks, color-code different item types, set reminders for upcoming events, and more. A Drag and Drop feature allows you to easily reschedule an event or change its duration. Task and TaskPad views show all scheduled tasks, including Active, Overdue, Completed, and others as well as allow you to create and track tasks with a flowing deadline or without a due date.

Reminders have customizable fonts, colors, and sounds, and may contain email addresses and live web URLs. Many of the main program features are accessible from a tray icon. You can synchronize your data with Palm OS® handhelds using HandySync™ or print your calendar to take it with you. You can also save it in HTML to publish it to the Web or to a company intranet. The holidays of over 30 countries are available.

Unauthorized access to your data is prevented with strong encryption algorithms. The program can communicate with DS Clock ( FREE utility ) in order to show the upcoming reminders and synchronize computer's clock with Atomic Time Servers. Get organized and improve your productivity with Calendarscope!




Software Information
System Requirements
Version:
2.5

Windows 8/7/XP/Vista
Pentium 90 MHz or higher processor
Minimum 32 MB (RAM)
At least 3 MB of available hard disk space

File Size:
2.15MB
License:
Free to try, $29.95 to buy
Screenshot:
View Screenshot
Rating :
Key Features of Calendarscope :
View by day, multi-day, week, month, or year
Intuitive, customizable views provide a clean environment that puts everything at your fingertips.
Complete Task view ( To-do list )
See all type of tasks, not only currently active ones but completed and overdue tasks as well.
Customizable time scale
Divide each hour in the Day and Multi-day views into 5, 6, 10, 15, 30, 60-minute intervals.
Recurring events
If an event occurs at regular intervals, you only need to schedule it once. Yet you can modify or delete single occurrences within a recurring event.
Timed, all-day, and multi-day events
Calendarscope makes it easy to see the duration of events in any view.
No due date? No problem!
Plan tasks that have no defined deadline or no due date at all. Choose yourself how often you want to be reminded about them.
Automatic calculation of the age for yearly events
Enter a value for a person's age or an anniversary and Calendarscope calculates the current number for each successive year.
Palm OS® handheld support
No matter who the manufacturer is, you can now synchronize your PC schedule with any Palm OS compatible handheld using HandySync™ for Palm.
128 bit encryption
We offer you 128-bit encryption support, which is now the highest level of protection used in Internet communications. Secure your calendar data and do not worry about unauthorized access any more.
Web calendars
Calendarscope makes it simple to save a month calendar in HTML to publish it to the Web or to a company intranet. Examples: Integrated, Red, Gray, etc.
Tool tip window with upcoming reminders
You should have running DS Clock ( FREE utility ) in order to show the tool tip window with upcoming reminders and synchronize computer's clock with Atomic Time Servers.
Holidays
The holidays of over 30 countries are available for import into Calendarscope.
Network users
Read-only access to the same calendar data file for network users.
Customizable Event templates
You can use pre-defined Event templates or create your own. Each Event template can have custom sound and reminder options.
Color reminder windows
Reminders for different event types have different colors, fonts, sound options, etc.
Hyperlinks in reminder windows
Calendarscope recognizes URLs and e-mail addresses that are placed in the Subject and Notes fields of event dialog boxes. For example, this enables you to easily view a Web site using your default browser without having to copy the address first and paste it into your Web browser's address field.
Calendar color-coding
Further identify your events with custom colors.
Searching
You can search the calendar for specific events or keywords.
Filtering
Customizable filters allow you to control what you see.
Archiving
The program can archive old events to a file in order to keep calendar data files manageable.
Backup and Restore
Calendarscope can create backups on almost any media (floppies, hard-drives, removable media, etc.) Restore feature allows user to restore calendar data from a backup, if the need ever arises.
Import and Export
The program supports import and export of data in native and commonly used file formats. You may choose not to import duplicates, or allow imported items to overwrite existing events. You may also synchronize calendars.
Fully customizable views
Specify font faces, sizes, and other settings for each view.
Full Screen mode
This mode hides most screen elements so that you can view more of your calendar.
Zoom feature
Take a quick look at the events of a single day in any calendar view.
Custom settings for the first day of the week and the first week of the year
Choose any day of the week as your first day of the week, and specify the first week of the year.
Color Printing and Print preview
Calendarscope allows you to preview and then print events for any range of dates and hours using different customizable Print Styles.
Work in the taskbar status area
Calendarscope can add an icon to your taskbar status area (also known as the system tray). Right-click on the icon to display a context menu with various commands. Double-clicking on the icon opens the Calendarscope main window.
Run at the system start
You can configure Calendarscope to automatically start when you turn on your computer.
Fully functional evaluation
The free evaluation version works exactly as the registered version
More Screenshots - Click each image to enlarge!