Boulder Dash-PocketPC Extreme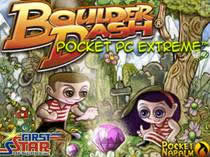 BOULDER DASH-POCKETPC EXTREME - is the first official Boulder Dash sequel ever developed for your PDA. This heart pumping, state of the art action game introduces us to ROCKY and CRYSTAL the children of the star of the original game: ROCKFORD. Join them on their journey through new exciting worlds as they search for treasure... Beautiful hand-drawn graphics, intense soundtracks and mind boggling level solutions are only part of the surprises and excitement awaiting BOULDER DASH fanatics and newbies alike.

Boulder Dash-PocketPC Extreme combines classic Boulder Dash excitement, action-puzzles and challenges with many new features: 90 degree rotation of the screen; the ability to use bombs, hammers, TNT and detonators...you can even kick objects across the screen defying gravity! Play the 20 Tutorial levels and 100 game levels, spread over 5 beautiful worlds, as either Rocky or his sister Crystal.




Software Information
System Requirements
Genre:
Arcade

Pocket PC, Pocket PC 2002 /2003
3 MB free storage memory
8 MB free program memory

File Size:
2.25 MB
License:
Free to try, $19.99 to buy
Rating :
Game Features of Boulder Dash :
Exciting new game features such as remote controlled gates toggled by magic switches; 90° rotation of the screen; many new enemies; growing amoebas and deadly lava; tricky doors and keys; and much more...
5 new worlds (Candy Land; Swamp World; Mexican Desert; Arctic Iceland and Scary Cemetery).
100 Game levels and 20 Tutorial levels.
New tools and weapons including detonators and dynamite; timed bombs; the ability to kick objects and boulder-smashing hammers.
Various doors and matching key combinations.
Cool sound effects and two different soundtracks!
Perfect cave solutions awarded extra scores and trophy cups!
Save/load game feature which lets you save and continue your game anytime/anywhere!
Eight 'beamable' slave slots!
Ability to post Highscores to the Internet, Highscores and Saved games can be beamed... even between different platform releases via Irda or Bluetooth!
Portrait or landscape mode (for PocketPC and PalmOS), player controlled Hints System as well as the option to play as either Rocky or his sister Crystal.
Enjoy huge game levels; hi-resolution graphics; hi-fidelity SFX and music…!