Blaze
- Versatile Text to Speech Rich Text Format Document Editor with Spell Check!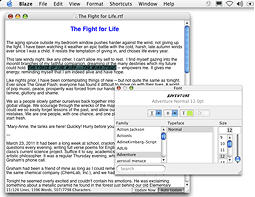 With this popular text editor, users have the ability to change the characteristics of their text instantly. Size, font, color, and style are all easily changed, and entire sections can be changed to all lowercase, uppercase, or title case in a flash. Document editing has never been so simple.
With the Mac OS X version of this powerful writing software, users are able to use Apple's built-in Text to Speech feature with any document, as well as Apple's built-in spell check engine. However, these aren't the only features integrated with operating systems. Because compatibility between platforms is a big issue these days, Blaze has the function to convert your text document to a PC-DOS or UNIX format easily, as well as the ability to read and write to Rich Text (RTF) files with no problem.
One of Blaze's major features, something most editors are missing, is the option to save your document as a HTML file or send it as an email. Blaze can do all of these things with a few mouse clicks, saving you time and trouble, as well as doubling as a HTML editor.
Unlike other Mac shareware applications, there is no catch with Blaze. It won't bother you when you're working in it, and will allow you to access all of the features even if you choose not to register. However, we would greatly appreciate it if you would pay the shareware fee to encourage future development.




Software Information
System Requirements
Version:
2.5.6

Power PC with G4 processor or greater
Mac OS X 10.2 or later
128 MB of RAM
90 MB available hard disk space
QuickTime 6.5.1 or later

File Size:
2.26 MB
License:
Free to try, $9.95 to buy
Screenshot:
View Screenshot
Rating:
Basic Feature List:
Recent File List.
Import Text.
Export as HTML or Plain Text.
Print Document
Show/Clear Clipboard
Find, Find in Selection
Replace All.
Insert Date or Time.
Smarten or Stupefy Quotes.
Go to Top, Bottom, Line.
Send via Email.
Set Font, Size, Color, and Style.
Switch to Titlecase/Lowercase/Uppercase.
Shortcuts.
Cross Platform Conversation Utilities.
... and much more!