Background Remover - remove image background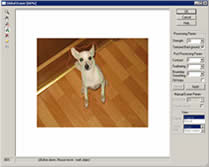 Background Remover is a Photoshop-compatible plug-in for Windows designed by ImageSkill Sofware that can work with Adobe Photoshop, Adobe Photoshop Elements, Corel Paint Shop Pro, Macromedia Fireworks etc.
The main purpose of the Background Remover is to extract some part of an image i.e. "the object" and remove part that which is unwanted, i.e. "the background". It is capable of determining areas of pixels to be modified, areas of pixels to be partly modified and areas of pixels to remain unmodified. The partly modification means the restoration of the non-distinct edges of objects. It is done by reinstating their partly transparent nature and also by subtracting the background color so that only the object color is left in these partly transparent regions. This ensures that the cut-out object will blend or composite correctly with a different background. The cutting objects may be used for collage, scrap-book and greeting card creation.
You don't need accurately draw out an object. Simple mark colors inside and outside object and press Apply.
Order now and receive 25.% off the regular price!




Software Information
System Requirements
Version:
3.0

Windows 8/7/XP/Vista
Pentium II CPU
Requires Photoshop-compatible graphic host program

File Size:
954 KB
License:
Free to try, $49.00 to buy
Screenshot:
View Screenshot
Rating :
Features at glance:
Extraction of different object types (solid, lace-like and semi-transparent objects)
Tools for debris removing and holes filling within received mask
Very easy and intuitive user interface with only a few controls.
Original high-speed extraction algorithms
Color unmixing for background replacing
Switching between original image and result one and preview the extracted object against a colored matte background for result checking
16-bit image support
Using Background Remover :
This plug-in works with 24-bits RGB layer only. If your image has no layer you must create one at first.
Run the Background Remover plug-in.
Using Mark color for erasing tool mark area that you want to delete.
Using Mark Object tool mark area that you want to extract.
Press Apply button in order to extract selected objects.
If you result of extraction is unsatisfactory, adjust the Strength control or (and) check Textured Background flag then press Apply again.
If need, delete all marks using Delete all marks tool and repeat steps 3-6 in order to achieve desirable result. If you can not do it, use Manual Erase/Recover tool .
Adjust the Contract, Feathering or (and) Boundary Smoothing controls for result tuning and press Apply.
Tool, Sliders and Buttons Descriptions
Tools section

Zoom tool

Use this tool for zooming. Current zoom factor is shown into left side of prompt line. Click to zoom in. Right-click to zoom out.

Pan tool

Click and drag to pan images larger than the windows.

Mark color for erasing tool

Click and drag to mark background color. Marked areas are red. After applying, these colors will be erased.

Mark Object tool

Click and drag to mark objects. Marked areas are green. After applying, these colors will be saved in the result image.

Delete all marks tool

Drop all marks.

Manual Erase/Recover tool Using this tool for manual erasing/restoring undesirable areas. You can set brush size and softness. See Manual Eraser Param section.

Reset

Revert all operations to original image.

Processing Param section

Strength -- Use this slider to increase/decrease strength of background erasing.
Range: 0 - 100

Textured Background -- Check this flag if your object is placed on the textured background.

Post Processing Param section

Contract -- Use this slider to contract mask in order to avoid undesirable border around objects.
Range:0 – 100 (in pixel)

Feathering -- Use this slider to feathering mask in order to receive soft transition zone.
Range:0 – 50 (in pixel)

Boundary Smoothing -- Use this slider to smoothing mask's border.
Range:0 – 9

Fill Holes -- Check this flag if you want to fill holes within received mask.

Manual Eraser Param section
This section is active when Manual Erase/Recover tool is selected as current tool only.

Brush Size -- Determines the pixel size of the brush.
Range:1 – 100 (in pixel)

Smooth Brush -- Check this flag if you want to have soft brush.

View section

Use View section options to select preview parameters.

Display -- Use Display menu options to switch between previews of the original and extracted images.

Show Mat -- Mat menu options to preview the extracted object against a colored matte background. To display a transparent background, choose None.