AV DVD Player - Morpher Gold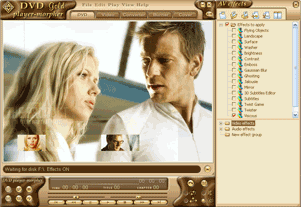 The Gold edition of AV DVD Player-Morpher is the versatile DVD editor software and Pro DVD player software coming with a DVD player, DVD/video converter, DVD morpher, subtitle editor, VCD burner, and CD cover editor. AV DVD Player-Morpher support DVD, VCD, SVCD, AVI, MPEG, MPG, QT, MOV, M1V etc.
Pro edition of AV DVD Player-Morpher 1.0 – the DVD editor software that morph and edit DVD and video movies; 88 video and audio effects to make weird movie; Convert DVD to different video formats; Edit movie subtitle; Capture screen image in series; Play movie in DVD and many video codecs; Burn VCD; Design CD cover and label.
You can make new movie by adding video and audio effects and save in video format. AV DVD Player-Morpher has a DVD/video converter to convert movie from DVD to video for better storage. In AV DVD Player-Morpher you can import subtitle file via subtitle editor, or you can add text and edit your own subtitle. It also works as a DVD jukebox, which plays movies in DVD, SVCD, VCD, AVI, MPG, MPEG, QT, MOV, M1V... It also include image capture, video and audio renderer, and a wide range of navigation access to movie playing. This DVD software also includes a VCD burner which can copy video file to CD as well as erase a video CD. After having your self-made movie copied to CD, you can use CD cover editor to make label, inlay, and cover for it. The Gold edition includes 44 video effects and 44 audio effects, capturing series image ability and more conversion formats.




Software Information
System Requirements
Version:
1.0.56

500 MHz Pentium class processor
128 MB RAM (for playing video/DVD).
Windows 98SE/Me/2000/XP/Vista.
Video card with 16-bit resolution capability and DirectX support.
DirectX 8.x.
DVD-ROM drive (optional).
CD/DVD Writer (optional)

File Size:
8.39 MB
License:
Free to try, $75.95 to buy
Screenshot:
View Screenshot
Rating :
What do AV DVD Player-Morpher Gold for you?
Apply 44 video and 44 audio effects in real time while playing DVD and video movies.
Mix complex effects and switch between effects "on the fly".
Morph one section or an entire movie and save it in video format .
Burn DVDs, VCDs, and data CDs to add to your music or movie collections.
DVD Player-Morpher allows you to convert DVD and video files among different formats.
Capture still images or a series of images.
Capture audio.
Subtitle Editor: lets you easily Edit DVD movie titles and subtitles.
Play DVDs, SVCDs, VCDs, and other media file formats.
Erase DVDs and CDs.
Make DVD and CD covers and labels
AV DVD Player-Morpher Gold Features:
AV DVD Player-Morpher is not a common DVD/video playing program, but a new multimedia device with dozens of audio and video effects that could be applied in real time.
AV DVD Player-Morpher allows you to enjoy watching video with distinguished video and audio effects, as well as to record the video using various effects, and save video files in different video file formats that could further be played back in different multimedia programs.
AV DVD Player-Morpher also allows recording specific video fragments from the movies.
AV DVD Player-Morpher can play DVD not only from the DVD-ROM drive but also from your PC's hard drive.
AV DVD Player-Morpher has a built-in DVD Converter which allows you to convert DVD files into AVI.
AV DVD Player-Morpher lets creating a series of video files in a user-defined folder with adjustable playback time intervals.
AV DVD Player-Morpher also offers opportunities to record your video files to CD-Rs/CD-RWs, including creating CD cover as you like.
DVD Player-Morpher has two nice-looking skins with easy-to-use interface.
AV DVD Player-Morpher Gold Version Limitations:
Some available effects are limited to only 1 minute.
With AV DVD Player-Morpher Gold 1.0 it will be possible to use only a few audio and video effects.
In this version only one effect can be applied at once.
Recording to CD/DVD is limited to only one track.
Capturing Audio is limited to 20 seconds, and Capturing Series of Frames are disabled.
In AV DVD Player-Morpher Gold 1.0 some DVD navigation functions are disabled: Bookmarks, Time-Seeking, Jumping, etc.
Converting in the Converter module is also limited to only one minute.
Quick Tips to Get Started:
Double-click the AV DVD Player-Morpher icon. To change the skin, use "Skins" command in View menu.
If you want to watch video files, click on "Video" LED indicator (the second one on the top toolbar). If you want to watch DVD, switch to DVD module by clicking on "DVD" LED indicator (the first one).
In the Playlist pane, select the video file (files) you would like to playback or use "Open File" command in File menu to select a certain video file.
Click the "Play" button and the video file will start playing.
Open the window of available video effects and then insert the effects you would like to use into the Effects panel on the right of the main window by double-clicking on the specific effect or dragging and dropping it or using "Insert" command in context menu.
To change the default settings of the applied effect, double-click it or use "Properties" command in context menu.
To turn the applied effect off, just unselect it.
To unselect all effects, remove a check-mark against top level effects folder.
To clear the effects layout, click "New effects layout" button (first one from the left on top of the effects pane).
Should you have any questions, click "Help" to read the "Help Topics," or Contact the our support to get more info.