Atropos-SB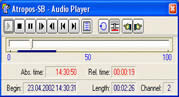 Atropos-SB is a multi-channel system to record and archive sound. The system records sound data (such as, speech, discussions, telephonic conversation, etc.) received through microphone, telephone, voice modem, radio stations or others sources of recordable sound and stores the data on personal computer in the digital format. It also enables reproduction of the sound files.

The recorded sound and its associated information is kept in the database. It is possible to browse through the database and play recorded sound, while other sound is being recorded.The database does not occupy much of your PC's precious hard disc space. Essentially, the Voice Activated System recording (which starts only when the sound signal is detected) and the sound compression algorithms reduce the required disk space size.

Mouse clicking is just enough to perform the system operations. The keyboard is required for the entry of text comments only. The database of recorded sound data is quite easy to work with. It offers convenient options of sorting, filtering and searching the record, such as; filtration of records by a channel number, by a date, by a start moment of record or by text comments. Textual comments can be associated with each database record. The database access control and protection is possible with the available option of password protection system.

The program runs in the background mode and loads the processor almost negligibly. For example, while recording on an AMD K6 300 MHz power processor with 2 channels, it loads less than 10%. So, your computer can operate without overloading concerns.




Software Information
System Requirements
Version:
ver.2005.05.25

Windows 95(OSR-2)/98/ME/NT/2000/XP;
Processor - Pentium-100;
Sound card

File Size:
1.15 MB
License:
Free to try, $50.00 to buy
Screenshot:
View Screenshot
Rating :
Key Features of Atropos-SB:
Maximum number of independent channels - up to 16;
Data storage method - digital;
Option to set up method and degrees of compression for each channel, independently;
Band of recorded and reproducible signal - 200..3600 Hz;
Individual level of regulation for activation of automatic recording system for each channel;
Computer screen display for the channel activity (active/passive, peak signal level, oscilloscope);
The database functions and features include the following:
1) automatic earmarking date and time for each record;
2) text comments for each record;
3) records filtration and search by various keys such as; channel number, date, zero time of record, duration or even by comment;
Playing any recording (group of records); for a particular record, it is possible to search required fragment (by using "rewinding forward/backward");
Export of selected records as standard wav-files;
System activity reports generation for a given time interval;
Possibility to work with the database without interrupting on going recording;
Hierarchical systems of the data storage/archiving;
Password protection for the recorded data against the unauthorized access;
Mode – continuous/non-stop, round-the-clock;
Loading paradigm : Celeron 600 MHz processor by 2 channels recording - less 3%.
More Screenshot - Click image to enlarge!