Analysis Collection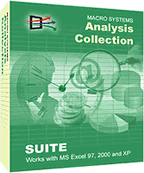 The Analysis Collection consists of all of our downloadable books on Microsoft Excel macros and over 40 time saving add-ins We sell as a collection to provide you over 70% savings off of the individual prices.
Time saving add-ins for Microsoft Excel 97, 2000, XP and 2003!

Try Now 3.40 MB
Software Information
System Requirements
Version:
New

Windows 8/7/XP/Vista
Excel 97, 2000, XP and 2003
Pentium II CPU
512 MB RAM

License:
Free to try
Screenshot:
View Screenshot
Download:
Download after order
Rating:
Key Features:
Backup Assistant - Be prompted to backup files when you open them and before you modify them! Or back them up at any time.
Cascade Chart Creator - Create cascade charts that help you explain change
Cell Color Assistant - Create your own toolbar of color buttons
Chart Assistant - Create hundreds of charts quickly and easily
Chart Labeler - Easily label and re-arrange your chart points
Chart Viewer - View your embedded charts full screen in the Chart Viewer's slide show
Conditional Format Assistant - Easily format cells based on multiple tests
Consolidation Assistant - Consolidate worksheets from multiple workbooks. Extract data easily.
CSV File Creator - Create CSV files the easy way
Data Assistant - Convert data into a form usable by pivot tables
Data Cleaner - Eliminate tedious manually cleaning of data
Data Loader - Make Excel data loading easier
Directory Lister - Windows Explorer in an Excel worksheet
Duplicate Finder - Quickly find and remove duplicates
File Assistant - See a list of the past 100 files you have opened! Easily re-open or E-mail any file.
Filter Assistant - Easily filter your data
Histogram Creator - Turn your data into a histogram instantly
Link Finder - Find and remove links to any workbook easily
List Assistant - Easily re-arrange rows and cells
Loan Assistant - Determine the cost and cash flows of loans
Lookup Assistant - Match data from one list to another the easy way
Macro Button Assistant - Choose from over 1700 buttons for your macro buttons
Macro Remover - Remove macros from any workbook
Merge Assistant - Merge (concatenate) multiple cells many different ways.
Multi-Cell Goal Seeker - Do goal seek on multiple cells automatically
Name Splitter - Easily split names into individual cell entries
Password Assistant - lock and unlock worksheets easily
Pivot Table Assistant - Make using pivot tables easier
Print Assistant - Automatically add print footers
Quick Chart Creator - Use just one chart for many rows of data
Random Number Generator - Random numbers the easy way
Random Sampler - Easily select a random sample of your data
Report Runner - Print multiple Excel reports automatically
Report To Data Assistant - Convert text reports to Excel databases
Risk Analyzer - Do decision and risk analysis the easy way
Sensitivity Analyzer - Do many what if and sensitivity analysis cases in seconds
Sheet Navigator - Move from sheet to sheet with great ease
Significant Digit Assistant - Add a key feature Microsoft forgot!
Spreadsheet Assistant - Add over 200 time saving features to Excel
To Do Assistant - Manage your to do lists from within Excel
Waterfall Chart Creator - Create charts that allow you to view the effect of what you plot
Y Value Estimator - Estimate values for missing data points
More Screenshots - Click each image to enlarge!