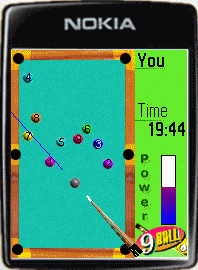 3DTennis

Now you can enjoy playing tennis on your mobile phone. You can select your opponent to match your level. Opponents have different skills and each has his strong point and his weak points! Try to beat first the weakest one then proceed to stronger opponents.

At first you might find the controls of this game somehow difficult, but with some patience you will get accustomed to it within minutes.

The game is available for the following mobile phones: All Nokias, and SonyEricsson T610/T616/T630. There's also a 100% MIDP compatible version ready to be ported to other devices.



Buy Site: http://www.zgroup-mobile.com/reviews/3DTennis/3DTennis.html
---
Key Features:
The user can save a game while he is playing it. Then the user can resume it as if no interruption has happened. This is important for long levels and addictive players!
Eight different opponents with different skills.
Three different playfields to choose from!
Sound & Vibrator effects make the game more enjoyable.
Key Features:
'4' or 'LEFT': Move the player left.
'6' or 'RIGHT': Move the player right.
'5' or FIRE: Move forward
'8' or DOWN: Move background.
'7': Move the player to the left and down.
'9': Move the player to the right and down.
'1': hit the ball and aim it to the left.
'2': hit the ball and aim it directly.
'3': hit the ball and aim it right.
'1' or '2' or '3': serve the ball.
'*': Jump to reach the ball. The direction of the jump will be the last direction of movement.
'0': Pause/Resume game.
Screenshots!