2D&3D Animator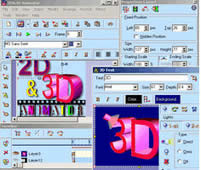 2D& 3D Animator produces high-quality images, titles, banner ads and buttons for your Web page or for a presentation.
It comes with an object-oriented design interface that enables you to edit graphics, manipulate text and layers (graphic animations), apply special effects, and then compile the animated graphic all from within the same program. You can add shadow to object, make it glow, and draw it with opacity. Further add cool deformation, transition and color adjustment effects.
You can create animations from your own pictures (JPG, GIF, BMP, AVI, ICO, PNG) and add 3D text and shapes. In addition to font size and color, you can use colored lighting, textures and more. The layers technology helps to control over the object's placement, size, motion, and appearance.
The ready-made templates make the product easier to use. You can choose one of several ready-made templates for banners, buttons or logos. Once you select a template, you can begin to alter it any way you want. By double clicking on objects you bring up tool bars and options.
To cut loading time for your visitors, have the program optimize your graphic by removing extraneous material. Once finished, output may be exported as GIF or AVI clips as well as JPEG, ICO, PNG or Bitmap images.




Software Information
System Requirements
Version:
2.1

Intel Pentium II/200 MHz or compatible
Windows 8/7/XP/Vista
512 MB RAM (64 MB recommended)
20 MB hard disk space
Color monitor
Mouse or other pointing device

File Size:
4.32 MB
License:
Free to try, $49.00 to buy
Rating :
Key Features of 2D&3D Animator:
3D Text
3D Text is a three-dimensional text string. You can change the font and thickness of 3D text, rotate and resize it, draw it with texture. The program has two types of lights: Direct and Omni. The lights can be placed at any position and have any color. The 3D text can be animated with rotation and dynamic lightening.
2D Text
With 2D text you have character-level control over all text attributes, including color, outline, and filling. It can be drawn with shadow and live effects, using any font that your computer has. Font preview allows you to view a font before selecting it.
Animation
The program creates animation by changing the position, size, and visibility of layers. For each layer, you can add unlimited number of Linear Motions and Fixed Positions. During the playback the program performs the motion sequence for each layer.
Image Optimization
To cut loading time for site visitors, the program optimizes graphic by removing extraneous material. The optimization tool has simple interface and helps quickly compare different image formats to create the smallest image.
Vector Images
Resolution-independent vector layers allow for quick creation images that can be resized without loss of quality. You can move and change its properties over and over again while maintaining its original clarity and crispness without affecting other objects in the animation.
Built in Image effects
Any layer can be drawn with multiple live effects. Live effects are completely editable. If you make any change to the layer, the effect automatically updates. You can add shadow to layer, make it glow, draw it with opacity and much more.
Unlimited transparency capabilities
A layer can be drawn in blending mode, that the layers behind the layer show through. A setting of 100 renders the layer completely opaque. A setting of 0 (zero) renders the layer completely transparent.
Filling objects
The linear, velvet, radial, conical, and square gradients and patterns enable you to create visual effects with stunning realism and help you to design tremendous animations much more easily.
More Screenshots - Click each image to enlarge!
RELATED SOFTWARE DOWNLOADS FOR 2D&3D ANIMATOR