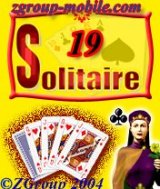 19 Solitaire Pack

Nineteen Solitaire

Do you want to play the following solitaire games Free Cell, Golf, Klondike, Pyramid, Russian Solitaire, Ukrainian Solitaire, Spider? Do you want to be able to play all of these games on your mobile phone? All those games plus eleven more solitaire games are all in ONE package: 19 Solitaire Pack!
You think that playing those solitaire games on your mobile phone which has small screen and limited keyboard capabilities will be difficult? You are wrong! check the images below and read more about the features of this game. We have tried our best to make this game as easy to pick up and as amusing as it's on a PC!
The name tells it all! This pack includes 19 famous and popular solitaire games into one! If you become bored of Solitaire, Klondike or Freecell, then you will have 16 more games to choose from! Those games are ideal for mobile phones and will help you surely to enjoy those small moments that you might have!
This package includes the following games: Aces & Kings, Aces up, Alaska, Australian Patiance, Beleagured Castle, Calculation, Canfield, Cruel, FreeCell, Golf, Klondike, Osmosis, Pyramid, Russian Solitaire, Scorpions, Shamrock, Spider (One/Two/Four suits), Ukranian Solitaire, and Yukon.
The game is available for many Nokia, SonyEricsson, Samsung, and SonyEricsson handsets. We also support some Audiovox, LG handsets. There's also a 100% MIDP compatible version ready to be ported to other devices.


Buy Site: http://www.zgroup-mobile.com/reviews/19Solitaire/19Solitaire.html
---
Key Features:
The user can save a game while he is playing it. Then the user can resume it as if no interruption has happened. This is important for long levels and addictive players!
Nineteen different Solitaire games within the same game.
Unlimited Undo/Redo mode : In case one of your movements was wrong, then you can go back and restore the game to any previous position!
Sound & Vibrator effects make the game more enjoyable.
Controls:
'4' or 'LEFT': Move the cursor to the left.
'6' or 'RIGHT': Move the cursor to the right.
'8' or 'DOWN' : Move the cursor down.
'2' or 'UP' : Move the cursor up.
'1' : Move to the upper left corner.
'3' : Move to the upper right corner.
'7' : Move to the lower left corner.
'9' : Move to the lower right corner. (These movements vary according to the game
'5' or 'FIRE' : Select a card.
'*': Shift to undo mode. Press 4,6 for undo,redo. Press '*' again to return to normal play mode.
'right_soft key' : Display instruction of selected game .\'1':
'0' : Pause/Resume the game.
More Screenshots - Click each image to enlarge!