Zen Puzzle Garden for Mac

-- Rake your way to inner peace!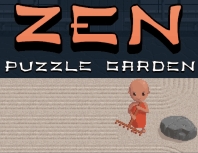 If you thought that you could never reach enlightenment by playing a computer game ... well ... you're probably right. You can, however, come close by relaxing with Zen Puzzle Garden!

Zen Puzzle Garden puts you in control of a monk who is trying to rake his sand garden, covering all of the sand once. The puzzle is completed when all of the sand has been raked, and the monk has stepped out of the garden.

The monk can not walk over sand he has already raked, so be careful not to rake yourself into a corner! There is no time limit, and you can restart the puzzle or undo a move whenever you want, so don't be afraid to experiment with different raking patterns.



Download Trial 1.50 MB
Software Information
System Requirements
Genre:
Puzzle

Mac OS 9.0 or later
64 MB RAM

File Size:
1.50 MB
License:
Free to try, $19.95 to buy
Rating :
More Screenshots - Click each image to enlarge!