InnovaStudio WebCMS - create, edit & publish web content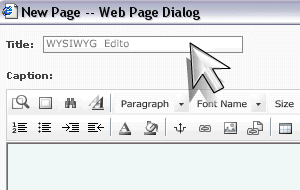 InnovaStudio WebCMS is an easy to use database driven web content management system. It allows you to create, edit & publish web content instantly using just a browser.
It's as easy as navigating the web pages which you can edit its content right away! That's the idea behind the InnovaStudio WebCMS. Everytime a new page is created, the site navigation structure is also automatically updated. You'll also have the flexibility to implement your own site layout & design.
InnovaStudio WebCMS provides all essential features you need for running your own small business websites (You can even us it for larger websites, without the complexity of unused functions).



Buy Now $69.95 USD
Software Information
System Requirements
Version:
1.4

Server : ASP, IIS
Client : All Windows (For Admin only: requires IE5.5++)

License:
Free to try, $69.95 to buy
Rating:
Key Features:
Create unlimited number of pages.
Create pages at any level within the hierarchical site navigation structure. It supports unlimited level of site navigation structure!
Automatically display the site navigation on each pages. You don't even need to maintain it because everytime a new page is created, the site navigation structure is automatically updated (The site navigation consists of root/top menu links, current page position/level & all page member links).
Edit web content using powerful WYSIWYG - Word like Editor (Using InnovaStudio WYSIWYG Editor).



Add custom (ASP) script to the content.
Insert images, flash, multimedia files & documents as objects or standard hyperlinks into the web content.
Featured with file management functions for uploading/downloading files and creating/deleting folder/files.
Edit content as a draft, without affecting the online version.
Easily publish the finished content.
Display Printer Friendly page.
Automatically generate Web Site Map.
Easily hide a page from the site navigation.
Configure a page to be accessed through SSL.
Template driven; seperate the content from the design. Template is implemented as an ASP file for quick response (not loaded & parsed from database). Plase note: HTML knowledge is required to edit the template.
Included: 5 implementations of InnovaStudio WebCMS using different templates.




Easy to install. Just copy all files to your web folders & it's ready to run! No need to register any DLLs on the server. Just make sure that you've given read & write permission to the 'database' & 'images' folder (InnovaStudio WebCMS uses Access database)