Weave Words
Enjoy word games? You'll love Weave Words!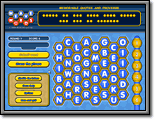 Weave Words is a relaxing new PC word game that will provide you with many hours of fun rewarding gameplay. Designed to be easy to play for even a word games novice, within minutes of downloading Weave Words, you're sure to be wrapped up in its delights.
Weave Words is a fun computer word game where you play to uncover well known phrases and sayings.
The game presents you with a hexagonal grid of letter tiles, which must be used to create words of three or more letters.
Once a word is made, you are awarded points based on its length and content (like Scrabble). Letters from the word can then be chosen to try to uncover parts of the hidden popular phrase or saying.
The longer the words you make, the more letters you can choose when trying to reveal the hidden phrase. An added layer of skill & strategy not usually seen in other word games!
With three different modes of play (Classic, Relax, and Time Challenge), over three thousand popular phrases to solve, and thirty interesting subjects to choose from, Weave Words is sure to keep you entertained for ages.




Software Information
System Requirements
Genre:
Word

Windows 8/7/XP/Vista
DirectX 7.0
Pentium II 800MHz processor
512 MB RAM
20 MB disk space

File Size:
4.33 MB
License:
Free to try, $19.95 to buy
Rating :
Main Features:
Weave Words is a high quality game, and has been rigorously playtested to ensure it is error free and lots of fun to play.
With over 3400 popular phrases in 30 interesting subjects, Weave Words will provide you with countless hours of fresh gameplay.
The simple rules coupled with intuitive controls ensure that Weave Words can be played by even a novice computer w ord games player.
Specifically designed to be mentally stimulating yet relaxing, Weave Words imposes absolutely no time limits on the player.
Weave Words contains nice, bright, and clear graphics, and includes music & sound created by professional digital musician Staffan Melin.
Although Weave Words already contains over two thousand phrases, even more can be added to the game by downloading extra phrase packs for free.
Similarly, if you are an expert in a particular subject, you can create and share your own Weave Words phrase packs with the bonus pack creation tool.
At just 4 megabytes in size, you can download Weave Words in just minutes. No need to wait for a CDRom to be posted - just play instantly.
At only $19.95 in price, Weave Words offers incredibly good value. Few other pastimes will provide so many hours of fun for so little cost.
Everyone deserves a little fun now and then. Whether taking a quick 5 minute break or a nice long rest, Weave Words will keep you entertained.
More Screenshots - Click each image to enlarge!