Water in Fire 2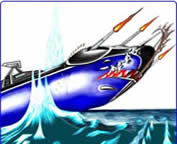 Hundreds of airships with powerful arsenals on board, spinning around in the sky. So why not "Shoot them all to win!"
Water is boiling, your armor is melting, power is below zero, but you must maintain your defense.
Four different game modes in which you help a friendly airforce destroy enemies, protect a naval base from extreme attack, control the armed battleship or amphibious tank through enemy waters and destroy hostile armed forces by the dozen.

Stunning True Color graphics with lots of special effects: alpha-blended, fancy particles effects and full antialiasing, 256 levels, hundreds of enemies, lots of powerful weapons and a variety of cool bonuses are waiting for you in this arcade-style shooter!




Software Information
System Requirements
Genre:
Action

Windows 95/98/Me/NT/2000/XP
At least 200 MHz processor
DirectX 7 or later
Video Card 4MB
64Mb of RAM

File Size:
4.44 MB
License:
Free to try, $17.95 to buy
Rating :
As a registered user you will get:
64+64+64+64 levels of high-speed arcade action !
A new style enemy aircrafts and different types of weapon !
54 different weapon types !
75 types of enemy aircrafts !
20 unique bonuses !
Post Your scores on the Internet high score table !
No nag screen! No limits !
Free version upgrade !
Game features
4 different game modes
4 difficulty levels
64+64+64+64 levels of high-speed arcade action
True Color graphic with special effects
Great music
Hordes of enemy
A lot of styles powerful weapon
Unique bonuses!!!
Fast and very easy installation Program Wizard
More Screenshots - Click each image to enlarge!