Vega Warrior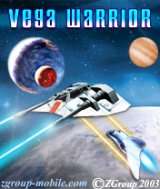 It's 3025 A.D. You are living on planet 'Kyro' in the Vega System. Aliens are trying to invade your planet and destroy your whole civilization. Only one man can stop them. . . . . he is the Vega Warrior!

You have been equipped with an advanced spaceship to defend your nation. You will have to work your way out through 10 levels, each includes 3 stages. During the game you can collect several power-ups to improve your fire attack, to gain an extra life, or to increase your fire rate. The 'P' powerup will increase your fire power. The 'S' powerup will speed up your fire rate for a limited time. The 'L' powerup will add one extra life.

Watch out! Aliens are smart, and have variety of ways to attack. Sometimes they summon their powers and fire at the same time, sometimes they organize themselves in fleets hard to defeat. When everything fails they will act like Kamikaze!!

At the end of each level you will have to attack either a bigboss or an organized fleet of aliens! Be Careful.
The game is available for the following mobile phones: Siemens SL4xi, Siemens M50, Siemens MT50, Siemens C55, Siemens S55, Nokia 6310i, Nokia 3410, Nokia 6610, Nokia 7210, Nokia 7250, Nokia 6100, Nokia 5100, Nokia 6800, Nokia 7650, Nokia 3650, Nokia n-Gage and Motorola T720. There's also a 100% MIDP compatible version ready to be ported to other devices.



Buy Site: http://www.zgroup-mobile.com/reviews/VegaWarrior/VegaWarrior.html
---
Key Features:
Clever Opponents Opponents are clever when attack. They don't mind also act like Kamikaze when they feel they are going to die!
10 Big bosses. At the end of each level you have a bigboss (or several) to defeat.
Weird Attackers: Enemy fleet organize themselves in certain position and move in certain harmony which make them hard to knock down.
Sound & Vibrator effects make the game more enjoyable.
Controls:
'4' or 'LEFT': Move the spaceship to the left.
'6' or 'RIGHT': Move the spaceship to the right.
'5' or FIRE: Shoot.
'2' or 'UP': Move the spaceship forward.
'8' or 'DOWN': Move the spaceship backward.
'0': Pause/Resume game.
*: Enable/Disable auto-shot mode.