TimeWatcher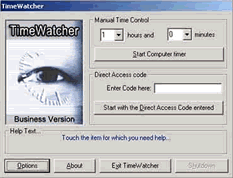 TimeWatch allows you to set a time limit on the use of your computer. Enter a password and enter the amount of time you're willing to let someone use your PC. When the specified time period has elapsed, TimeWatch locks your desktop until the proper password information is provided. You also have the ability to restrict access to selected programs. You can manually add window titles to the list or have TimeWatch retrieve them when you open the program you want to protect. You can even have TimeWatch restrict access to partial window titles by telling it to match either the beginning or the end of the title. TimeWatch can automatically launch at Startup, can provide custom logging support, and cannot be terminated with Ctrl-Alt-Del.




Software Information
System Requirements
Version:
5.11

Windows 8/7/XP/Vista
Pentium processor
64MB RAM

File Size:
3.41 MB
License:
Free to try, $25.00 to buy
Rating:
Key Features of TimeWatcher :
TimeWatcher lets you control how long your children can use the computer. You can define a period of computer time which you want to allow them per day or week.
TimeWatcher makes it possible to block certain programs which you do not want your children to use.
TimeWatcher lets you enforce certain restrictions on your computer, so it is protected from unintentional changes to its configuration.
Log File - TimeWatcher can record all actions to a log file. With the help of that file, it can for example be analyzed, at what time TimeWatcher was running, when computers were locked and unlocked and whether forbidden windows where closed.
Desktop Cleanup - TimeWatcher memorizes, which programs where opened during the session of a customer. After the customer logs off, TimeWatcher can close these programs, so the next user will find a clean desktop.
Automatic Hangup - When TimeWatcher switches to log mode, it can disconnect any Dialup session which is still in use. This function helps to minimize your online costs.
Localization - The most important texts in the main dialog can be localized to any language.