SurfStats Log Analyzer Professional Edition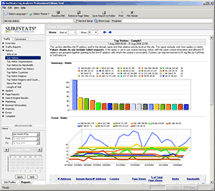 Now you can know more about your site visitors than you ever did. The SurfStats Log Analyzer is the ideal solution to find out exactly what you need to know about website statistics. Whether you have a small, medium or large website, the SurfStats Log Analyzer is the solution you need to track information on pages viewed, site visitors, browsers used, http errors and similar useful web site usage statistics on your site. The Log Analyzer analyzes your web server log files and presents website statistics using colorful graphs and tables.

SurfStats Log Analyzer generates Website Activity and Conversion Tracking reports from log files. Reports can be generated in various languages with output to screen, file directories, ftp or email. It supports most common log file formats with automatic log file format and compressed format detection.
This professional level award winning edition of the SurfStats Log Analyzer offers a host of features unrivalled in this as well as the much more expensive section of the log analyzer market. It is the ideal website traffic analyzer for users and businesses who want to analyze the activity generated by their own web site and Third Party web sites. The licensed version of SurfStats Professional Edition allows web site traffic analysis of an unlimited number of web sites on one computer system.





Software Information
System Requirements
Version:
2011.1.1

Windows 7/Me/NT/2000/XP/2003/Vista
Pentium or similar processor
Internet Explorer 4.0
64MB RAM

File Size:
32.6 MB
License:
Free to try, $495.00 to buy
Rating:
Key Features of SurfStats Log Analyzer Professional :
Generate reports for your own company and third parties. Limited to 10 profiles in Standard Edition.
Schedule report generation and delivery. SurfStats Scheduler Service requires Windows OS supporting services.
View and print reports without opening a separate browser window. Reports can also be viewed with browser.
The built-in email client can compress and e-mail completed reports to a specified e-mail address. Mail with SMTP or MAPI.
Appearance of reports per individual site profiles can be changed by selecting a theme for the site profile. Edit themes with the SurfStats Artist.
Retrieve page titles of web pages accessed directly from the web site. SurfStats looks up the HTML title tags.
Filter on dates, files, referrers and visitors in Interactive mode with the unique Control Panel and see results without re-generating reports.
Resolve domain names from IP Addresses effortlessly. True Multi-threaded Reverse DNS lookup provides increased performance. Optional Visitor Origin Database available.
Download log files and post reports to remote servers with the integrated FTP client. Test validity of FTP location specified.
Can report in MS Word. English versions of Windows only.
Works seamlessly over Terminal Services.
A powerful interactive report for analyzing accesses to pages with query parameters. Track asp (Active Server Pages), cfm (ColdFusion Pages), jsp (JavaServer Pages) etc.
Browse, view and edit log and other text files. View most file types like html, gif, jpg, png, bmp and text - even view files contained in compressed files.
Eight European languages and three Eastern Asian Languages (Chinese, Japanese and Korean). Even create your own.
Specify multiple log files, even from multiple sites and report on them together. Date Macro editor to specify dated log files. Even specify compressed files.
Unlimited number of site profiles (maximum 500 recommended).
Backup/Restore your site profiles, schedules and settings to/from a single XML file.
IIS Import wizard allows scanning of IIS metabase on local and other computers on the LAN.
View set Editor to quickly edit Views information associated with profiles.
SurfStats Log Analyzer Professional Edition Reports:
Site Activity. Activity in terms of hits, page views, client sessions and bandwidth over a period of time.
Watch Activity. Earmark certain web pages and see how many times they were visited. Note that this option is not yet available in the Professional Edition.
Client Activity. See what IP Addresses and Domains visitors come from, countries, organizations, regions and authenticated users.
File Activity. See which files and pages are downloaded the most and the least. Top entry and exit pages, if your site was book marked and get detail on server attacks.
Advertisements. Track ads viewed and clicked.
Browsers and Browser Capabilities. See what browsers are used and their capabilities.
Referers. Who sent traffic to your web site, what keywords were used at Search Engines etc.
Errors. What errors happened on your site, what requests caused the errors, also server errors.