STFMath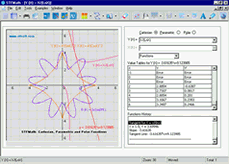 STFMath (ex SunCalculator) is a multipurpose math utility, suitable not only for students, but also for engineers, professors, or anyone interested in math.
exSunCalculator - multipurpose math utility: draw, analyze and evaluate Cartesian, Parametric and Polar functions, manage matrixes, complex numbers, geometry and more.
Software Information
System Requirements
Version:
2.1.0

Windows 8/7/XP/Vista
Pentium or similar processor
512 MB RAM

File Size:
4.25 MB
License:
Free to try, $24.00 to buy
Screenshot:
View Screenshot
Rating: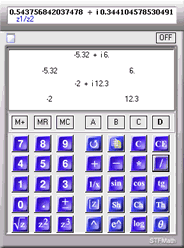 Click each image to enlarge!
With STFMath it is possible to:
Graph Mode


Draw Cartesian standard or parametric (Y = F1(K), X = F2(K)) and Polar functions.
Draw Integral and Average
Evaluate function
Perform function analyze
Calculate intersection of two functions
Calculate and preview integral
Calculate 1st derivative and average
Draw and calculate equation of tangent or normal
Save drawn graph as an image (bmp, wmf, jpg), or copy graph to clipboard and paste in external applications
Insert textual labels into the graph, print graph or graph history, adjust graph attributes
Build a table of values and publish it as HTML
Prepare presentation using built-in MathPad, fully functional text editor

Calculators


Matrix Calculator offers basic and advanced matrix calculations, with fully supported complex numbers usage. Supported operations:

Matrix addition, subtraction, multiplication, scalar multiplication and division (max matrix size 50x50)
Calculate determinant and trace, characteristic equation [for 2x2 and 3x3 matrix], adjoint [adjugate] and inverse matrix
Matrix edition [swap matrixes, swap and delete rows or columns, multiply and submit rows and columns, transpose matrix]
Edit matrix in MathPad
Save/Open matrix as a Matrix calculator file
Publish result as HTML
Calculate solutions of linear equations system [up to 50 variables]

Function Evaluator - evaluate functions [incl. special function, like Gamma, Betta etc.] without limits; Evaluate X and Y points.
Complex Calculator offers basic and advanced complex calculations [argument, reciprocal, trigonometry and hyperbolic, exponential, logarithm...].
Geometry Calculator - calculate with easy: triangle, circle, frustrum, ellipsoid, draw and calculate polygons.
Geometry Units Converter - easily convert values for angle given in degrees [+ minutes + seconds] to radians or grads. For more extensive converting use given lists of units under Angle, Area or Distance.
RELATED SOFTWARE DOWNLOADS FOR STFMATH