SpyCop Home Edition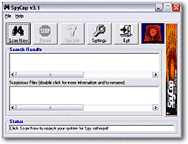 Whether you are simply a home user or a Corporation, you can now get protected with SpyCop.
Rest assured knowing that your personal information, or your company's corporate secrets are protected from prying eyes. Your copy of SpyCop can be instantly updated by a click of your mouse to find any new monitoring software we add to our database, completely free
SpyCop can rename detected spy program's files to disable them and even let you know when the spy is installed SpyCop appears to be a standard Windows utility to most spy programs out there, so the spy won't know that you know!
SpyCop is like a virus scanner for commercial computer monitoring spy programs. Once downloaded and installed on your system, SpyCop can be used to scan your entire system for the presence of hundreds of the computer monitoring spy programs available.




Software Information
System Requirements
Version:
6.0

Windows 98/Me/NT/2000/XP
Internet Explorer4.0 or higher
64 MB RAM

File Size:
1.32 MB
License:
Free to try, $ 49.95 to buy
Rating:
Key Features of SpyCop Home Edition :
Stop Password Theft Dead- SpyCop detects spy software that is put on your computer to capture your passwords.
Keep Your Emails Private - SpyCop alerts you if your emails are being snooped by spy software.
Kill Instant Message & Chat spy software - SpyCop keeps your online chats and instant messages safe from prying eyes.
Stop Surfing Monitors - SpyCop can prevent spy software from capturing & recording what websites you're visiting.
Stop Keystroke Loggers Dead- SpyCop protects you from spy software that can capture & record your every keystroke.
Prevent Online Credit Card Theft - SpyCop can help keep your credit card information safe if you shop online.
Protect Your Banking Information - SpyCop can protect your banking information from being stolen if you bank online.
Prevent Unauthorized spy software Data Transfer - SpyCop can stop spy software from relaying your private information over the Internet.
Prevent Identity Theft - SpyCop can stop spy software from capturing and recording information that can help someone steal your identity.
RELATED iPod SOFTWARE DOWNLOADS