TVideoGrabber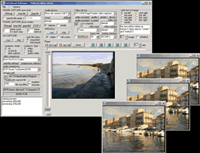 TVideoGrabber is a versatile video capture component and media player component available for Delphi and C++Builder (as a native VCL component), or for Visual Basic and Visual C++ (as an ActiveX OCX component). TVideoGrabber is a quick and easy video development tool. TVideoGrabber captures analog or digital video sources like Firewire (IEEE1394) cameras, DV camcorders, USB web cams, TV cards, PCI composite cards, USB devices, and plays video clips with frame capture and live streaming capabilities. The major features include video recording (AVI, ASF and MPEG2 e.g. with Hauppauge PVR), audio/video compression on-the-fly or after recording, direct network streaming, network streaming to a publishing point, reencoding of video clips, media player, Send to DV (Print to DV) DV timecode, DV date/time, DV camcorder control, motion detection, frame capture, text and graphics overlays, TV tuning, videos built from set of images, screen recording, video cards with multiplexed video inputs, deinterlacing, video rotation, brightness, contrast, hue, saturation, dual display on 2 separated monitors. Includes 2 years free upgrades with e-mail support. After ordering the "without sources" version, it is possible to upgrade later to the "full Delphi source code" version for the difference of price.





Software Information
System Requirements
Version:
7.6 build 215.10

Windows Vista,XP,MCE,2003 server,ME,98
Latest DirectX version
Windows Media Encoder 11 (required to record in ASF or WMV)

File Size:
22.0 MB
License:
Free to try, $695.00 to buy
Screenshot:
View Screenshot
Rating :
Key Features of TVideoGrabber:
VIDEO PREVIEW
of video capture devices like DV camcorders, USB webcams, IP Cameras, PCI composite and digital capture cards, TV cards, USB capture devices and firewire(IEEE1394) cameras
VIDEO RECORDING
- AVI/MPEG/WMV recording, - recording with pre-roll, - timer-based recording (delayed start, timered stop, or create new file periodically) - compression of the audio and video streams, "on-the-fly" or after recording, using standard audio/video codecs like MPEG, DivX, OpenDivX, XVid... - pause/resume during AVI recording, with possibility to create a new clip for each pause/resume, - video preview while recording.
AUDIO RECORDING
- to WAV or MP3 files
MEDIA PLAYER
- plays most of video clips: WMV, AVI, ASF, MPG, MP4, MOV, etc... - plays most of audio clips: WAV, MP3, ... - opens static images: BMP, PNG, JPEG, GIF, ... - trackbar control, - playlist features, - playback at any speed, forward or backward, - fast seeking, forward or backward, - synchronization of several TVideoGrabber player components, - plays streaming videos (opens Windows Media "http:", " mms:" and ".asx" URLs) - opens static JPEG, BMP, PNG, GIF image files, allowing image processings and overlays
FRAME CAPTURE
- to TBitmap, BMP and JPEG files, one by one or automatically, - during preview, recording or playback,
LIVE NETWORK STREAMING
- video streaming or audio broadcasting, - directly to the internet, from the platform running TVideoGrabber, - indirectly through a publishing point on a Windows Media Server, authentication supported
FULL DV SUPPORT
- DV timecode - DV date/time - Send to DV ("print to DV"), lets you send the audio/video to a DV device like a DV camcorder,
MULTIPLEXED INPUTS SUPPORT
- supports video cards with several inputs, - accept 4 switched inputs and 16 switched inputs in 2x2 or 4x4 mosaïc video or in master/slave modes,
IP CAMERAS / IP VIDEO SERVERS
- support for most IP cameras in MJPEG, JPG and ASF mode - support Axis cameras in MPEG4 mode - supports username/password authentication on IP cameras with secured login - PTZ control
MOTION DETECTION
- the video frame area is divided in cells, within motion is detected, - the sensitivity of each cell can be easily adjusted through a simple dialog,.
VIDEO PROCESSING AND OVERLAY
- image and graphic overlays, - text overlay, - deinterlacing, - video transparency, - chroma key, - video rotation 90° 180° 270°, - top-down and left-right, - half size and full size deinterlacing, - brightness, contrast, saturation, hue, - inverted colors, - greyscale.
PREVIEW AND RECORDING OF VIDEO AND AUDIO CLIPS
- video files or a video streaming URLs (authentication supported)
SCREEN RECORDING
- with or without cursor - full screen recording (or one monitor when using several monitors), - recording of the extended desktop across several monitors, - recording of a given window identified by its name or handle
CROPPING AND ZOOMING
- recording of only a cropped area of the video source - zooming within areas the video source
VIDEO CLIP BUILT FROM BITMAPS OR IMAGE FILES (BMP, JPEG, GIF, PNG, etc...)
- at any frame rate
REENCODING OF VIDEO AND AUDIO CLIPS
- by using the audio and/or video compressors, - by applying graphics and/or text overlays, - by extracting sequences from a start and stop time.
AUDIO VU-METERS
- "needle analog" style or "digital bargraph" style
DUAL DISPLAY
- on 2 different monitors (e.g. a small video window on a monitor and a full screen video on the 2nd)
ANALOG TV TUNING
- TV channels scanning, - TV frequency overrides.
VIDEO CAPTURE DEVICE CONTROL
- video size, - frame rate, - video input, - analog video standard (NTSC/PAL/SECAM), - focus, - zoom, - frame count of delivered and dropped frames.
Key Benefits of TVideoGrabber:
easy to use,
lets you save tens of hours of DirectX and DirectShow development,
based on the latest audio/video technology,
works with most of the DirectShow-compatible video capture devices available on the market,
no additional library to distribute,
2 years of free upgrades (including new versions) with e-mail support.
RELATED SOFTWARE DOWNLOADS FOR TVIDEOGRABBER