RipTiger Ultimate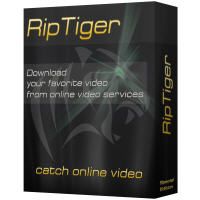 RipTiger is the world's #1 web video downloader, The easiest and the most powerful way to capture and Convert Web Video Automatically. No additional click or configuration hassle. RipTiger does everything automatically in the background for you. Just start RipTiger, play your video or online TV as usual and RipTiger saves it automatically. Ultimate version can convert and transfer downloaded videos to iPod with a single push of a button. The other output formats supported by RipTiger Ultimate are AVI and WMV.

No other software can download as many formats as RipTiger does.
RipTiger downloads high definition video data and saves the original data exactly 1:1 on your hard drive. No quality loss in audio or video.





Software Information
System Requirements
Version:
2.3.1

Windows 8/7/XP/Vista
512 MB RAM or more
1000 MHz Intel, AMD CPU or better

File Size:
9.49 MB
License:
Free to try, $34.99 to buy
Screenshot:
View Screenshot
Rating :
Major Features of RipTiger Ultimate:
Capture online videos as you watch them.
Most of the popular streaming and file formats are supported: Flash Video (HTTP and RTMP), Windows Media (HTTP, MMS and RTSP), Real Audio and Real Video (HTTP and RTSP), MPEG, QuickTime, Streaming MP3 (Shoutcast).
Fast and simple install.
Turbo Capturing - record video stream with up 10x speed
Capture online TV and webcasts.
Capture videos without commercials.
Capture multiple and many more...
Highest Capturing Quality
Download speed boost.
Download videos from manually specified URLs.
Convert downloaded videos to various formats.
Copy downloaded videos to iPod.
RELATED SOFTWARE DOWNLOADS FOR RIPTIGER ULTIMATE