Printer's Apprentice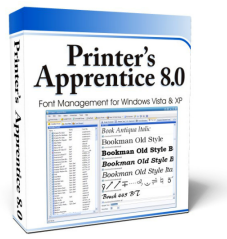 Printer's Apprentice, the best font manager for Windows 7, Vista & XP.

Use Printer's Apprentice to print font samples and font books, view your fonts, install and uninstall your your fonts and manage font groups. Printer's Apprentice works with TrueType, OpenType and Adobe Type 1 font files.
Printer's Apprentice creates gorgeous font books, sample sheets and keyboard charts. And you can effortlessly clean out your fonts folder by uninstalling typefaces you don't need.
Printer's Apprentice is the perfect companion for any project - graphic design, web site creation, desktop publishing, even scrapbooking. Whether you are a graphic artist, a publishing professional or a software enthusiast, if you have a lot of fonts, Printer's Apprentice will help you organize your collection.
Software Information
System Requirements
Version:
8.1.19.1

Windows 7, Vista, XP and 2000
300 MHz processor or faster processor
256 MB RAM
requires the Microsoft .NET 2.0 runtime

File Size:
8.11 MB
License:
Free to try, $24.99 to buy
Screenshot:
View Screenshot
Rating :
Printer's Apprentice Features:
Font Viewing Features:
"Preview without installing fonts" function supports TrueType, Adobe Type 1 and OpenType fonts.
Familiar Explorer-style interface for quickly viewing installed fonts or browsing uninstalled font files on any media.
Toolbar provides fast and convenient access to frequently used features.
Many dialogs have been redesigned so fewer steps are required to complete common tasks.
Single character, character set, sample text and keyboard views are all integrated into the main interface via tabs across the top.
Character set display can be displayed using a grid in a 2x2, 3x3, 4x4, 5x5, 6x6, 7x7, 8x8, 9x9 or 10x10 configuration.
Compare Fonts tab shows you multiple fonts at once using your own sample text.
Keyboard display shows you where symbol and dingbat characters are on a standard PC keyboard.
Easily examine copyright and other information embedded in font files.
Font Management Features:
Use the Install and Uninstall features to quickly manage the TrueType, Adobe Type 1 and OpenType fonts on your system. No rebooting is needed.
Intelligent font install and uninstall tools let you manage fonts with more options than the Windows Control Panel
Any number of fonts can be installed or uninstalled at once.
Uninstalled fonts can be previewed, printed and installed from any media including external drives, CDR, flash drives, floppies, etc.
Uninstall functions removes fonts from Windows, deletes font-related Registry entries and can optionally move font files to another location for backup.
Font Groups Features:
Organize your TrueType, Adobe Type 1 and OpenType font files any way you like by sorting them into folder-based groups.
Easily install and remove entire font groups with a few mouse clicks.
Fonts stored in groups can be viewed and printed just like installed fonts.
Font group list is integrated into the main Printer's Apprentice window for easy browsing.
Font groups are managed and navigated using the standard Windows Explorer style tree interface.
All printed catalogs and sample sheets are available for font groups.
Printing Features:
Easily print many sample sheets or catalogs for multiple fonts at once.
Customizable sample text, headers and footers.
Font catalogs print multiple fonts per page with customized point sizes.
Font file name, path location and KB size are optionally printed for each font.
Multi-page Print Preview window shows you what the output is going to look like.
For printing many fonts in a listing, Printer's Apprentice has 9 different professionally designed catalogs.
For single font printing (one per page), Printer's Apprentice includes 9 customizable font sample sheets.
General Features:
Printer's Apprentice 8.1 is for PCs running Windows 7, Vista & XP.
Supports Windows Visual Styles and themes.
Extensive online help system and "How To" help for all dialogs and screens.
Professional setup gets you up and running quickly. When needed, the uninstaller removes the application and all supporting files.
RELATED SOFTWARE DOWNLOADS FOR Printer's Apprentice