PhiMatrix Professional Mac & Windows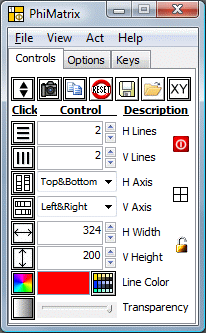 PhiMatrix is a design and analysis software application for Windows and Mac. The PhiMatrix grid system quickly overlays any image on your screen to identify or apply phi proportions in various grid styles, as well as custom user-defined ratios.
PhiMatrix allows you to unveil the beauty, harmony and balance of nature's proportions and use it for your own analysis, designs and artistic creations. PhiMatrix has a variety of grids which overlay any image on your screen from any other software.

Phi proportions are found throughout life and the universe, from the dimensions of DNA, sea shells, plants, animals and the human face and body to its appearance in the stock market.
Use it for Design and Composition, Financial Market Analysis, Dental Cosmetics, Nature and Beauty studies and more.

The phi relationship, 1.618:1, known as the Golden Section (also mean, proportion or ratio) and the Divine proportion, has long been used by artists, architects, designers, engineers, musicians, photographers, sculptors, surgeons and stock analysts alike to achieve excellence in their results. The Greeks used it in designing the Parthenon. Leonardo Da Vinci used it in creating "The Last Supper" and many of his other paintings.

Now you can use it too, quickly and easily, to analyze and better appreciate what already exists or to create and design your own masterpieces in the same proportions that give nature its beauty, harmony and balance.

A variety of standard and custom grid patterns are available, and the applications are limited only by your creativity: Product design, graphic arts layout and design, fashion design, interior design, architecture, art, landscaping, sculpture, photo composition and cropping, stock market analysis, beauty analysis, educating students on design in nature, and much, much more.

PhiMatrix also includes a Color Palette Generator that creates a rich color palette based on golden ratio relationships from two colors you choose.
Software Information
System Requirements
Version:
1.618

Windows XP / 2000 / Vista / 7
Mac OS X
128 MB RAM

File Size:
Windows 1.8 MB, Mac 5.5 MB
License:
Free to try, $29.95 to buy
Screenshot:
View Screenshot
Rating :
Here's a brief list of some powerful & unique PhiMatrix Professional features:
Basic Mode Grid Controls (All you'll need for projects using a Phi-based "golden ratio" grid)



The Transparent Borderless "Golden Ratio " Grid Overlay - Drag and resize the Phi-based "Golden Ratio" grid as a transparent overlay to any image or application on your computer screen. PhiMatrix provides a free-floating grid with no application window frame or border to obstruct your images or other applications.
Windows and Mac - Developed in cross-platform environment to run on Windows 2000, XP, Vista, 7 and Mac OS X. Easy, Intuitive, Helpful User Interface - Descriptions and intuitive icons on the Control Window to describe each control. Help bubbles appear over every icon or control to describe its function.
One Click Controls - The "Quick Click" icons on top and left sides of the Control Window cycle through most common options with the click of the mouse or roll of the mouse wheel.
Select the Number of Grid Lines - Vary the number of horizontal and vertical grid lines from 0 to 100. Select the Grid Orientation - Flip the orientation of the grid to any of the four corners (top, bottom, left, right) or just display it in mirrored mode (top & bottom, left & right, center) or with either the horizontal or vertical grid lines eliminated.
Easy Grid Resizing - Resize with the mouse by clicking and dragging on the grid or change the size of the grid by using the controls and mouse wheel on the Control Window.
Easy Grid Positioning - Move the grid on the screen by clicking and dragging on the grid with the mouse, by using cursor controls on the keyboard or by the control panel with the mouse wheel.
Custom Grid Colors - Click through standard colors selections for easier viewing against different images or use the color palette for user customizable colors.
Select the Transparency - Adjust the grid transparency from 0 to 100 percent transparency to make it easier to see your original image.

Basic Program Menu Functions and Controls (Icons on the top row and in menu functions)



Resizable Control Window - Variable Control Window sizes to minimize its footprint on the desktop screen when descriptions are not needed.
Copy/Save/Print - Finished images can be copied to clipboard, saved to image files (gif, jpg, bmp, png, pict) or sent to the printer.
Reset - Reset button to return the grid to its original settings or saved personal default settings with a mouse click.
Save/Load Settings - Save as many favorite grid settings to disk as you want or load a variety of sample grids available for free on the User Guide page.
Save Settings as Default - Save the current grid settings as a default to be loaded automatically when the program is next launched or when the Reset button is selected. (Available from File menu.)
XY Grid Data - Data window to show gridline positions in pixels, percents or measures based on user project dimensions, which can be copied to clipboard.
Color Palette Window - A color palette generator used to generate rich, appealing color schemes. The entire PhiMatrix color palette is based on golden ratio (Phi) relationships of the hues of two colors.
Add Notes - Add your own title and footer text to the grid to annotate images (Options tab).
Lock and Deactivate Grid - Deactivate and lock the grid in position to prevent the mouse controls of the grid from interfering with the functions of the underlying program (e.g., use paint tools in Photoshop without any interference of the mouse in PhiMatrix.)
View - Automatically sets the Control Window settings to provide instant access to a variety of gird patterns including phi grid, phi circles, phi ovals, golden rectangles, golden spirals, Fibonacci grids, Rule of Thirds grid, square grids, rectangle grids and dental grids. Also select advanced program options for aspect, orientation and border width.
Act(ivation) - Select free trial, purchase or update, perform offline registration and select language option.

Advanced Mode Grid Controls (To add or change a border around the grid or set fixed aspect ratios and orientations for photo editing, layout, etc.)



Select Line Width - Grid line width option from 1 pixel to 30 pixels.
Select / Define Aspect Ratios - Lock grid to common aspect ratios used in photos, digital media and print (e.g., Golden Rectangle, 5x7, 16x9, 8.5x11, user-defined).
Select Landscape / Portrait - Select grid aspect ratios to landscape or portrait orientation.
Variable Border Size - Adjustable border size to frame surrounding image outside of the PhiMatrix grid itself for saving, copying or printing the entire image area.
Optional Variable Image Border Styles - Choice of optional borders to show the screen area surrounding the grid selected for copy/save/print.

Expert Mode Grid Controls (To use grid line ratios other than Phi for added versatility and more demanding applications)



Grid Ratio Options - Additional grid line ratios beyond Phi, including Square Root Phi, Marquardt Ratio (Cube Root Phi), Phi Squared, Fibonacci Series, Levin Dental Grid, 1, 2, 3, Root 2, Root 3, Root 5, Ovals/Circles and user defined ratios.
Grid Progressions - Gridline progression option that divides the entire grid inward or expands the smallest grid segment outward, by phi and other ratios.

Menu Options



File menu includes options to:
Save, copy or print images
Save or reset program options
Open the Data Window or Color Palette Window




View menu includes options to:
Access numerous preset grid options, including Phi, Fibonacci, Golden Rectangle, Golden Spiral, Circles, Ovals, Rule of Thirds, Squares, Rectangles, Face, Dental Grid
Change Aspect, Orientation, Border Size
Hide, lock and zoom the grid




Act menu includes options to:
Try or Purchase the Program
Perform offline activation functions
Set the language to English, German, French, Italian, Spanish, Portuguese or Humgarian. Other languages available upon request.




Help menu includes options to:
Access information about the program
Access online Help guides
RELATED SOFTWARE DOWNLOADS FOR PhiMatrix Professional Mac & Windows