Ncome and Xpense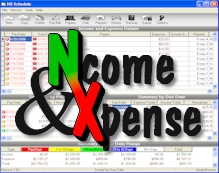 Ncome and Xpense is a personal scheduler/manager that will help you keep track of expense amounts, income amounts, and their due dates. The program keeps a running total of what you owe and when payment is due. Ncome and Xpense is an easy program to use, and it's a handy tool for making sure you don't miss important bill payment dates.
There are something new with the version 3.0:New look for all interface screens; Added summary by due date; Created 6 new reports for current detail, history detail, and summaries; Added sorting and date range options for reports; Sort columns have their column title highlighted for visibility; Corrected problem where copy did not copy budget amounts; Corrected problem with XP where backup would not display completed message and Updated help file.





Software Information
System Requirements
Version:
3.0

Windows 8/7/XP/Vista
10 Mb disk space
8 Meg of RAM (16 recommended)

File Size:
4.88 MB
License:
Free to try, $24.95 to buy
Screenshot:
View Screenshot
Rating :
Ncome and Xpense also includes the following features:
Color-coded dates based on aging, for better visibility
Recurring income and expenses that will repeat at a customizable number of days, weeks, half-months(semi-monthly), months, and years
Memorized payee list, with drop-down list on payee fields
Pay Date and due date summaries for "what if" scenarios at bill paying time
Sorting by any column by simply clicking on the column title
Rearrange columns by right-clicking and dragging title
Customizable aging interval (number of days used in aging summaries)
Columns for end dates, warning days, account balances, and budget amounts
4 user fields with customizable column titlesSupport for international currency formats
Reminders at startup for past due items
Keeps history of past paid expense and income records
Backup and restore in case disaster
Exports to CSV and other formats
7 different reports with customizable date range and sorting
Calculator with one-click access from all amount fields
Context sensitive help and tooltips
Install/uninstall support
Free upgrades for previously registered users of Ncome and Xpense
How to Use Ncome and Xpense in 4 Easy Steps:
Create New Bills
You will enter new income and expense detail records from the NX Schedule screen. You can also update detail records from this screen. Initially you may choose not to update the pay date field until all income and expense records are up to date. This will be done in the next step.
Update Pay Dates
Update pay dates for income and expense records from the NX Schedule screen. Normally pay dates will coincide with a paycheck date. You can utilize the Pay Date Summary view to see how much you will have left after your paycheck. This remaining amount will indicate how much you have left of your paycheck after paying your bills. In my house, that's the grocery money.
Pay Bills
You will start your bill payment processing from the Pay Bills screen. This is a good time to write out your checks to be paid, based on the items on the screen that you select for processing. Once you click the "Process Now" button, the records you have selected will be written to the history database, and you will begin rescheduling recurring records.
Reschedule Bills
Reschedule your income and expense records from the Reschedule screen. You can make any changes you like to the records before they get rescheduled. If you already know the next pay date for rescheduled records, you can go ahead and enter that too.
RELATED SOFTWARE DOWNLOADS FOR NCOME AND XPENSE