Media Detective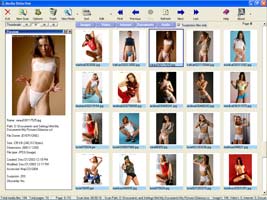 Do you have pornography on your home PC or Notebook? ARE YOU CERTAIN? Media Detective will tell you for sure! Remove Adult media files with easily with Media Detective!
Media Detective is a software tool for helping you find and remove porn images media from your PC. Detects skin color in movies and images to help identify nudity. It designed to automatically find pornography and other unwanted material on your computer, and present the files found for assessment by the user. Any items found can be deleted. It uses various methods to rapidly scan your hard drives and present any files found, selecting those which appear to be offensive, and presenting them so that the user can review them. Image files can be viewed and movie files can be played to check their contents.
Media Detective uses a number of techniques to find adult files on your computer. These techniques help take the tedium out of searching for files yourself, as well as uncovering files that have been intentionally hidden.





Software Information
System Requirements
Version:
2.1

Windows 7/2000/XP/2003/Vista
Intel Pentium III 1 GHz
Microsoft DirectX 8.1 or Later
Microsoft Media Player 6.4 or Later

File Size:
19.90 MB
License:
Free to try, $49.95 to buy
Screenshot:
View Screenshot
Rating :
Media Detective Key Features and Benefits:
Find pornographic images, movies and other file types lurking inside your computer.
Delete any located files.
Media Detective can analyze: Image Files, Video Files, Audio Files, Document Files, HTML files, Compressed Files, Cookie files.
Quickly locate suspicious files by automatically sorting image and movie files by nudity content.
Automatically scan for obscene file-names to further identify unwanted files
Check for media files with incorrect file extensions
Inspect ZIP files for media files contained inside
and more...
Media Detective identifies suspect files by classifying them through various analytical methods:
Skin-tone analysis attempts to identify images and movies that contain nudity by opening them and scanning them for the presence of skin color.
Keyword analysis compares filenames against a list of known keywords, to further identify obscene files.
Content Verification checks the binary content of files to ensure that the file contents are correctly reflected in their filename. This test can reveal files that have been renamed to conceal their contents.
ZIP file checking makes sure that no unwanted files are hidden inside a compressed file.
Internet Scanning checks for visits to adult websites by scanning history files for offensive keywords and known adult sites. Find out who is surfing where and when!
Word document scanning looks inside Word files for embedded images
Additional text formats supported More files can now be scanned -Word documents, HTML files, cookies etc.
Why use Media Detective?
Making sure that your kids won't stumble across any unwanted items when using the computer at home
Cleaning up your home computer prior to repairs; technicians can (and do) check your files while your PC is being serviced
Ensuring that classroom computers are a safe environment for students to use (Enterprise version)
Verifying that there is no problem with pornography compro-mising your business computer systems (Enterprise version)
Revealing inappropriate staff usage of computing resources and internet bandwidth during work hours (Enterprise version)
RELATED SOFTWARE DOWNLOADS FOR Media Detective